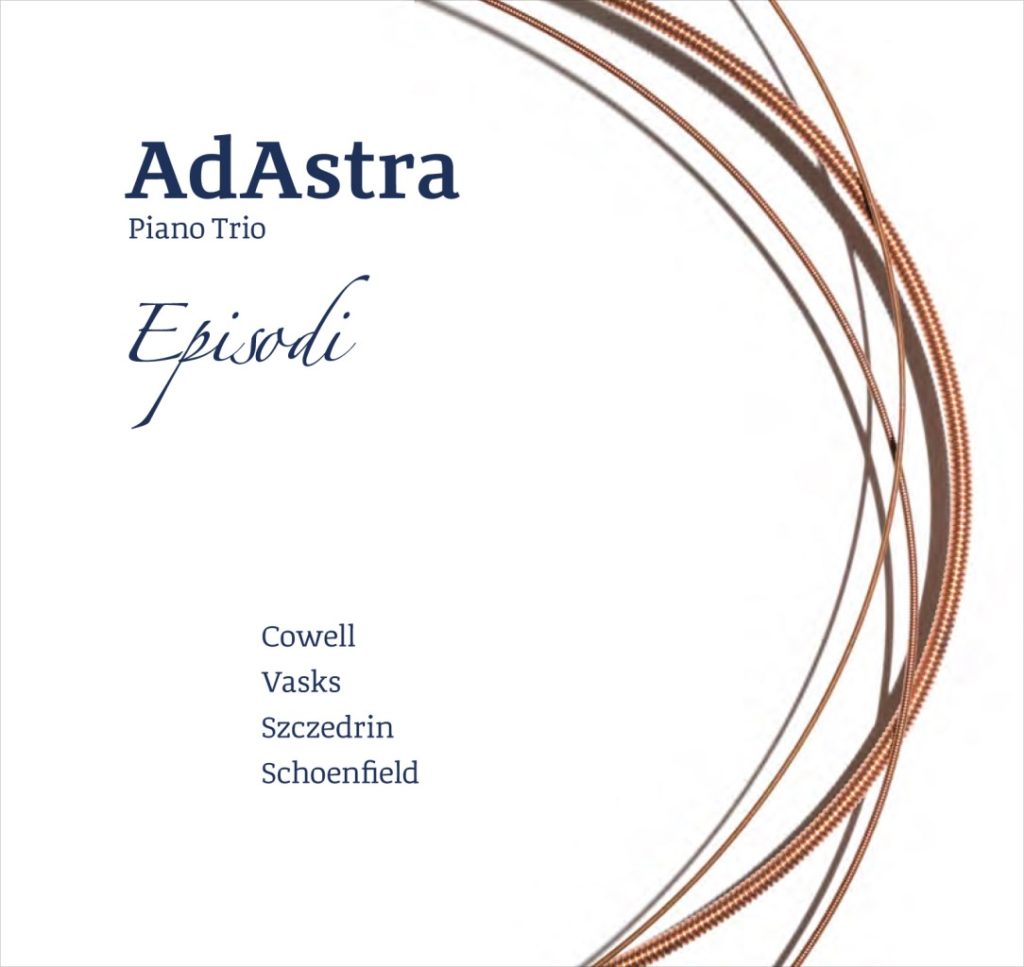 ARTISTS:
AdAstra Piano Trio
Anna Szabelka – violin
Łukasz Frant – cello
Joanna Galon-Frant – piano
RELEASE DATE: 04/2017
CATALOGUE NO. ACD 231
GENRE: chamber music
DESCRIPTION
Episodi
is a debut release by the well-established
AdAstra Piano Trio
ensemble, spanning a diverse selection of 20th-century American and Easter European compositions. The choice of works to be included was by no means fortuitous, and each of the recorded pieces carries a deep personal meaning to the artists. 
The music material creates a space where moods fluctuate between the extremes of high-pitched drama and humorous lightness, a realm that scintillates with a fantastic array of colors, emotions, and unconventional means of expression, whose refreshing forms are far from what could be considered a classical approach to this genre of music. Undeniably, it is this complexity and versatility — resulting, among other things, from the composers' distant geographical backgrounds — that underlie the choice of repertoire for the album, and whose vivid presentation became not only the greatest challenge for the musicians, but also their shared artistic goal.  
The selection contains one of the world's few existing recordings of two outstanding works:  Trio in 9 short movements by Henry Cowell and Episodi e Canto perpetuo by Peter Vasks, which represent the focal point of the album's concept. Both the American, known for his inclination to experimenting, and the internationally recognized Latvian, structure their compositions in ways that contrast significantly with the classical sonata form, prevalent in the piano-trio literature. 
Cowell and Vasks tap into the full expressive and technical potential of the three traditional instruments — the former by focusing on the contrapuntal activity within the dodecaphonic, tonal and polytonal harmonic frameworks, and the latter by oscillating between modal, sonoric, and aleatoric techniques. The enormous emotional charge and dark tone of Vask's composition, alongside Cowell's lapidary style, contrapuntal skills and reflectiveness stand in distinct contrast to the remaining pieces on the record.  
The other two compositions are clearly lighter in character. Café Music by Paul Schoenfield, which was inspired by the ambiance of the iconic Murray's steakhouse in Minneapolis, is a playfully arranged stylization of early jazz forms and traditional Hasidic dance music, while the grotesque miniatures Three funny pieces by Rodion Shchedrin reassert the reputation of the composer as the master of pastiche and parody. These works balance the graveness and solemnity of the antecedent pieces, allow a pause for breath, provide necessary distance, or even amuse the audience, at the same time remaining the finest gems of their kind, whose overall compositional value is truly beyond measure. 
TRACKLIST
LISTEN