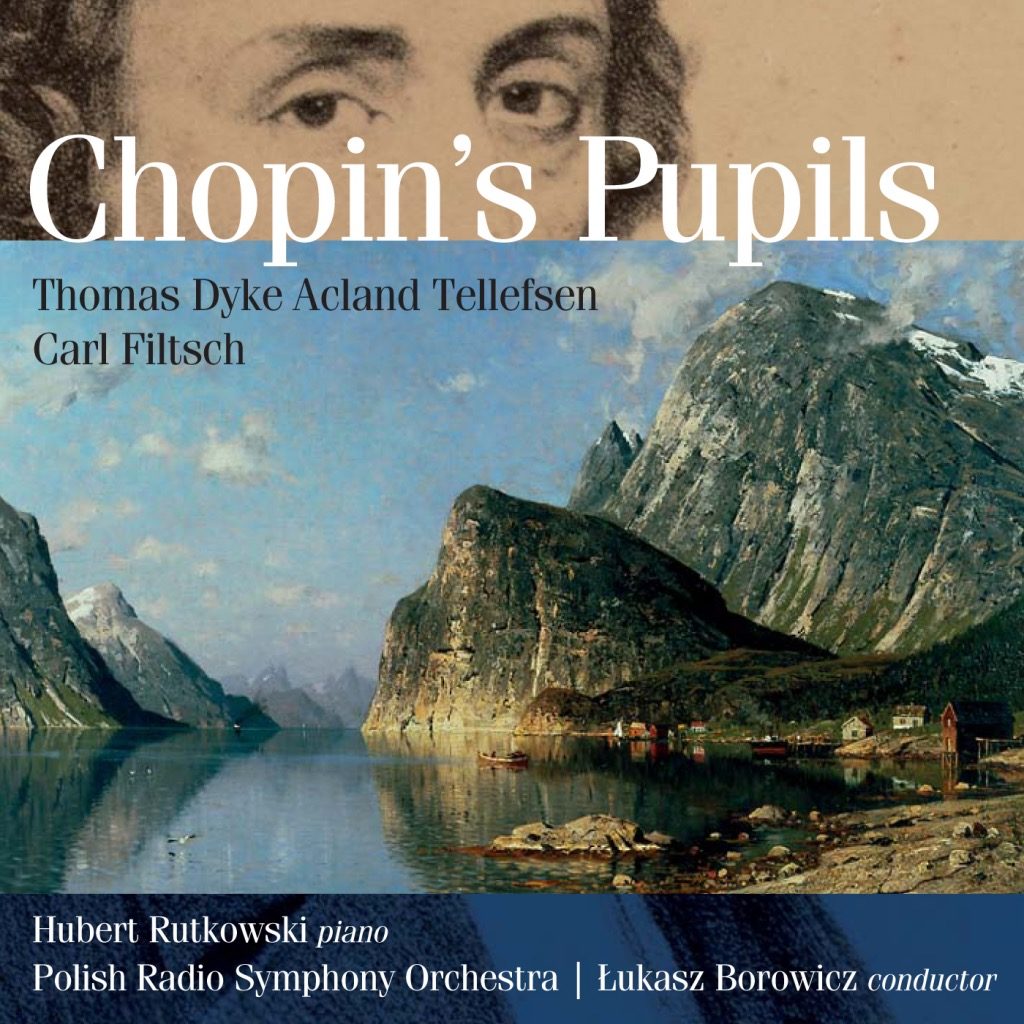 DESCRIPTION
homas Dyke Acland Tellefsen (1823–1874)
Piano Concerto No. 1 in G minor Op. 8
Thomas Dyke Acland Tellefsen was born in Trondheim and grew up in a very active music environment. In May 1842 Tellefsen left Norway in order to study music in Paris. From the moment he arrived in the French capital he nurtured a strong desire to become one of Chopin's students, and at the end of 1844 their first meeting was arranged. This meeting led to regular teaching until May 1847. After the death of Chopin, Thomas Tellefsen took over a number of his students in Paris and he soon gained a reputation as an excellent piano teacher.
Concerto No. 1 in G minor Op. 8 for piano and orchestra was written in 1847–1848. The concerto received its first performance in Paris on 31st March, 1852, at the Salle Pleyel with the composer himself as soloist. In the first movement the soloist presents thematic material from the orchestral exposition as well as new material. The first part of the development section begins with an improvisatory passage based on the main theme, before continuing with a nocturne-like theme borrowed from the exposition in the solo piano part. The second movement, Andante, in E flat major, can be characterized as a piano nocturne with orchestral accompaniment. The final movement, Finale. Allegro, is played attacca. The first theme is a Norwegian folk tune: a bridal march. The second theme has characteristic traits derived from the Norwegian folk dance, halling. However, the theme might as well be inspired by the Polish krakowiak, which has several traits in common with the halling, and might then betray certain similarities to Chopin's Krakowiak Op. 14.
Ingrid Loe Dalaker, D.Arts
Carl Filtsch (1830–1845)
Konzertstück for piano and orchestra in B minor
Carl Filtsch is one of the forgotten personalities of nineteenth-century music. "When this little one begins to tour," said Liszt, "I will have to close up shop." Few indeed have enjoyed so brilliant a childhood as did Filtsch. At six he launched his pianistic career with a tour in his native Transylvania. Not long thereafter Filtsch left home to continue musical studies in Vienna. "No sooner had my father and I taken off our furs and coats," he wrote, "than we rushed to the great Mittag… Before becoming his pupil, Wieck (the father of the great Clara) took me in hand." When Carl was ten, following a debut at court, he left the Austrian capital. By December, 1841, Carl and his brother Joseph were settled in Paris, where Carl would enjoy the mentoring of Chopin for the next year and a half. In its review of Filtsch's farewell performance in France, the "Monde musical" likened him to Mozart, adding "thus we remember Liszt twenty years ago." In England, where the brothers settled next, critics would be more effusive still. "It must be admitted," wrote one, "that the pupil [Filtsch] surpassed the master [Chopin]."
The Konzertstück in B minor, written at twelve years of age, is Filtsch's magnum opus. That it is reminiscent of the first movement of the E-Minor Concerto Op. 11 of Chopin comes as little surprise. Filtsch was tutored in both piano and composition by Chopin, who required he fashion his compositions on existing models. It is known Filtsch played Chopin's E-Minor Concerto and even performed it in public with the composer at a second piano. Chopin's opening Allegro lacks a cadenza. Filtsch, however, included one in his Konzertstück. Long and impressive, indeed the center of gravity of the entire piece, the cadenza ruminates upon themes which had appeared heretofore. Special treatment is reserved for the opening theme, which is skillfully developed in fugato.
Ferdinand Gajewski
Westfield, New Jersey
TRACKLIST
LISTEN