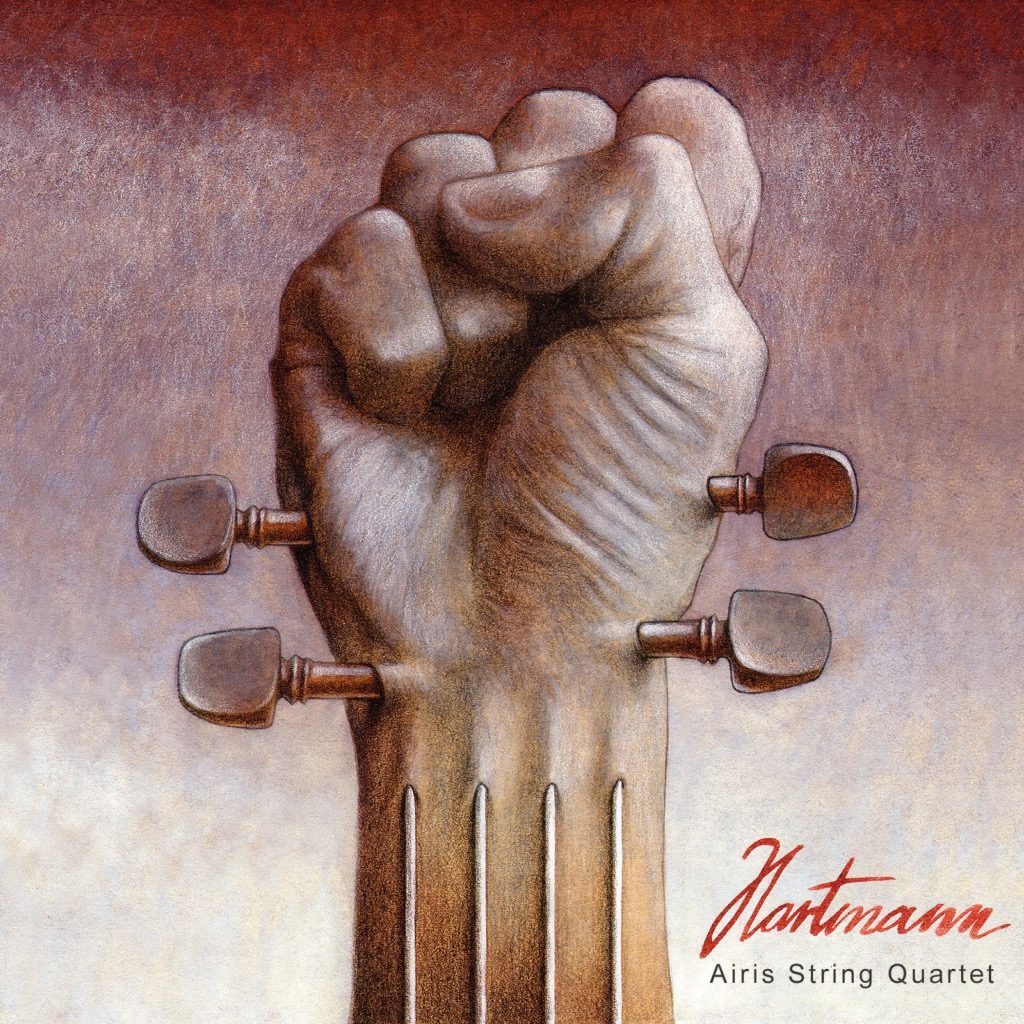 ARTISTS:
Airis String Quartet
Aleksandra Czajor – 1st violin
Grażyna Zubik – 2nd violin
Natalia Warzecha-Karkus – viola
Julia Kotarba – cello
RELEASE DATE: 02/2019
CATALOGUE NO. ACD 245
GENRE: chamber music
DESCRIPTION
Hartmann's work is very difficult to attribute to any particular compositional school. Although he was not a revolutionist in terms of notation or performance forces, he was able to creatively subordinate all the achievements of modern musical language to innovative formal approaches. His music fascinates with the scale of expression, the intensity of dramatic appeal and attention-grabbing musical narrative. Hartmann wrote with extraordinary verve, creating artistic phrases with a broad ambitus, at the same time he could masterfully juggle short motifs, subjecting them to elaborate variational and contrapuntal transformations. In
terms of harmonics, Hartmann's music is tonal, though strongly chromatic, which deprives the listener of a secure sense of anchoring in a specific key. The composer did not shy away from strongly dissonant sounds, sometimes close to clusters. Sound beauty in purely aesthetic terms was not his priority. He created music in the service of truth, uncompromising and authentic.
The framework of Hartmann's 'inner emigration' is symbolically marked by two string quartets. String Quartet No. 1 was created in 1933 just after Hitler was appointed Chancellor of the Third Reich, whereas String Quartet No. 2 was composed a moment after the end of World War II, in 1945. Other important works written during this time include the tone poem Miserae, the opera Simplicius Simplicissimus, Concerto funèbre for violin and chamber orchestra and Sinfonia tragica. The work of this period is extremely allusive and full of content hidden, as it were, between the verses. The composer's musical language, like an enigmatic message, requires deciphering to understand the hidden meaning. Hartmann weaves in quotes from Jewish melodies, a Hussite hymn, a Russian revolutionary song or from Chinese liberation songs, but these are never literal quotes, but melodies passed through the filtre of an individual musical concept. Jazz elements in the rhythmic layer, metric irregularities or percussive treatment of instruments are an allusion to all manifestations of 'degeneration' in music banned by the Nazi regime. Ideological engagement can also be seen in the selection of texts in vocal-instrumental works, including those written by Karl Marx or Johannes Becher in a cappella chorales or the libretto of Simplicius Simplicissimus based on a 17th-century novel by Grimmelshausen.
Webern's Langsamer Satz for string quartet was created in 1905, but its premiere did not happen until 1962 in Seattle. Webern composed it during a mountain trip in Austria for which he went with the love of his life, Wilhelmine Mortl, his cousin and future wife. This unusually beautiful work full of sophisticated sounds comes from the period when Webern still wrote tonal music, before becoming one of the fathers of dodecaphony. It reflects the soul of a 21-year-old man in love, his gusts of heart, euphoria and melancholy.
The Langsamer Satz in its subtle expression and delicacy is a counterbalance to Hartmann's string quartets filled with the fear of wartime, suffering and anxiety. However, the hope for being salvaged, longing for the carelessness of early youth and the desire for a happy life resounding in Hartmann's music find their fullness in the Webernesque miniature.
Aleksandra Czajor
TRACKLIST
LISTEN