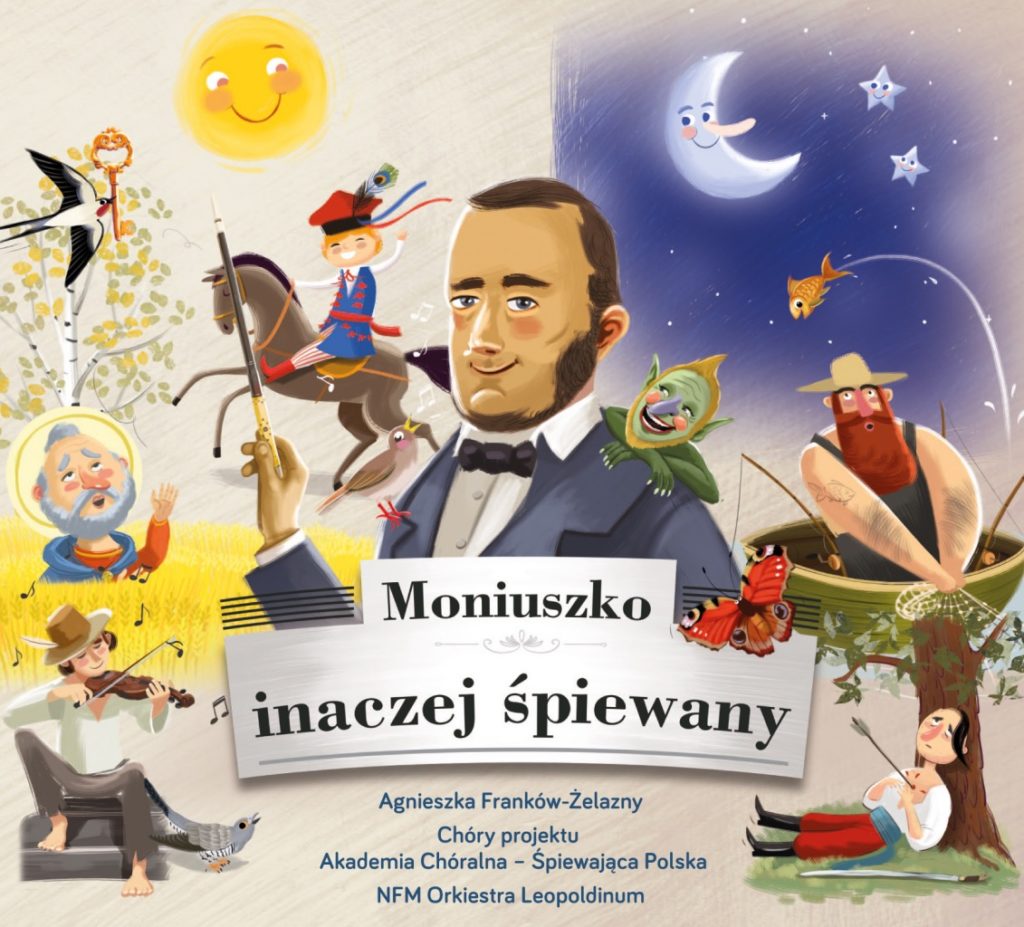 Moniuszko sung differently
ARTISTS:

Agnieszka Franków-Żelazny – conductor
Choirs of the Choral Academy Project – Singing Poland
NFM Orkiestra Leopoldinum
Paulina Boreczko-Wilczyńska – soprano [5,6,9,11,13]
Aleksandra Sosna – alto [6,11,13]
Sebastian Mach – tenor [5,10,13]
Jerzy Butryn – bass-baritone [6,12,13]
Katarzyna Neugebauer-Jastrzębska – piano
RELEASE DATE: 03/2020
CATALOGUE NO. ACD 265
GENRE: chamber orchestra, choral music / vocal ensemble
DESCRIPTION
'We already know that he was an outstanding composer, the only musician who, while working in a country during the hardest period for the nation, in such adverse conditions, with the strength of his talent and character, stubbornness and perseverance, gained a position of exceptional importance,' Witold Rudziński writes in his book about Stanisław Moniuszko. Due to historical and political circumstances, the artistic achievements of this Polish composer are a special part of the Polish national idiom. His operas (Flis, Halka, The Countess, Paria, The Haunted Manor, Verbum nobile) and songs became an excellent carrier of patriotic content. The latter, in terms of quantity, constitutes the vast majority – Moniuszko wrote approximtely 300 songs. Dedicated for home use, diverse in terms of theme and character (religious, social, moral, lyrical, love, idyllic, historical, patriotic and reflective songs can be found among them) and collected in subsequent volumes of Songbooks for Home Use, which were a response to the needs of society at the time.
Moniuszko composed both short strophic songs, intended for amateurs with limited performance capabilities, as well as multi-part ballads created for professional singers. According to Stefan Kisielewski: 'His music not only came to noble manors or bourgeois houses, but also "to thatched roofs".' And because he was an excellent melodist, his songs 'entered the blood of society, became a part of the climate, atmosphere, Polish lifestyle […].' Thus, Moniuszko blurred the line between elite and popular art, i.e. attractive to a wider audience. Even with this, none of his works lost their artistic value.
A similar idea guides the project of the Choral Academy, which aims to propagate singing, including primarily collective singing, which not only has artistic value, but also brings psychological and social benefits. This time, the most famous melodies of Stanisław Moniuszko were taken to the workshop. Roman Ilia Drozd translated them into modern language, bringing them definitely closer to young performers and audiences. Therefore, a collection of outstanding works was created, all cited from Moniuszko's operas, Crimean sonnets and Songbooks for Home Use, written to the words of outstanding poets. The new arrangement was intended for solo voices, uniform choirs, piano, string orchestra and percussion, with elements of body percussion. 
The contemporary arrangement of melodies known for almost two centuries breathed new life into them and gave them a completely different energy. I had the opportunity to find out how much positive emotions they caused among the audience and the commitment of young performers during one of the concerts, in which, in addition to soloists and the NFM Leopoldinum Orchestra conducted by Agnieszka Franków-Żelazny, several children's and youth choirs took part. In this recording of Moniuszko sung differently, you will feel the same energy and joy from that night of making music.
Agata Adamczyk (transl. Chantal Prymka-Radkiewicz )
TRACKLIST
LISTEN