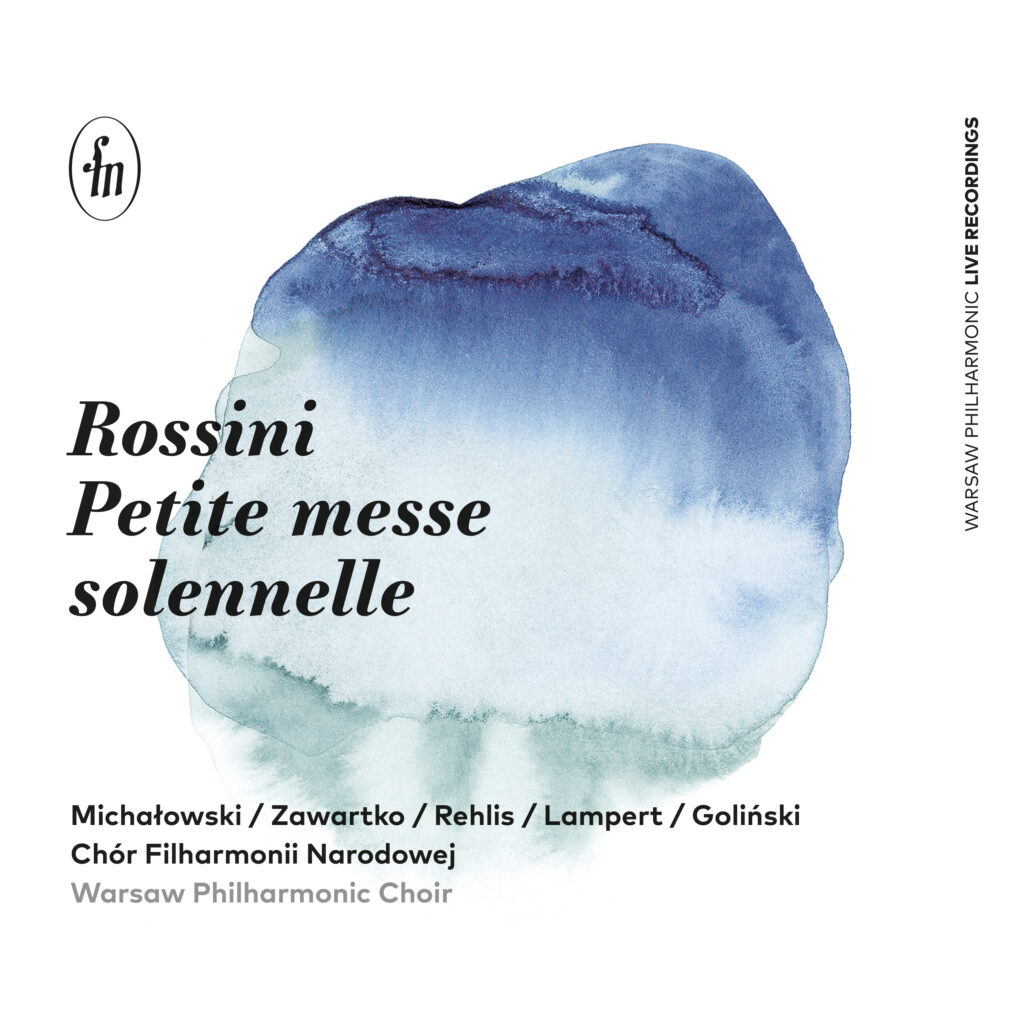 Rossini – Petite messe solennelle
PERFORMERS:
Warsaw Philharmonic Choir
Bartosz Michałowski – conductor, choir director
Joanna Zawartko – soprano
Agnieszka Rehils – mezzo-soprano
Andrzej Lampert – tenor
Łukasz Goliński – baritone
Ewa Wilczyńska – piano
Agnieszka Kopacka-Aleksandrowicz – piano
Piotr Wilczyński – harmonium
RELEASE DATE: 06/2023
CATALOGUE NO. ACD 318
GENRE: choral music
DESCRIPTION
To mark the 70th anniversary of the Warsaw Philharmonic Choir, we hereby present a new disc in the series Live Recordings, featuring Gioachino Rossini's Petite messe solennelle. This exceptional work was performed in concerts at the Warsaw Philharmonic on 18 and 19 May 2018 by the Warsaw Philharmonic Choir, under the direction of Bartosz Michałowski, with the excellent Polish soloists Joanna Zawartko (soprano), Agnieszka Rehlis (mezzo-soprano), Andrzej Lampert (tenor) and Łukasz Goliński (baritone), and the instrumentalists Ewa Wilczyńska and Agnieszka Kopacka-Aleksandrowicz on piano and Piotr Wilczyński on harmonium.
The Petite messe solennelle ('Little solemn mass') is the last masterwork to be penned by Gioachino Rossini. In the oeuvre of this brilliant Italian composer, dominated by operatic works, sacred music always maintained a constant, albeit discreet, presence. […] The first performance of the Petite messe solennelle was given on 14 March 1864. […] This composition took its place among the most original sacred music of the nineteenth century, alongside works by Ferenc Liszt and Hector Berlioz. It became its composer's musical and spiritual testament, opening up broad vistas for future continuators referring in their work to Latin traditions in the Catholic liturgy.
(from Grzegorz Zieziula's essay 'Gioachino Rossini's swansong')
TRACKLIST
LISTEN
Może Ci się spodobać również: