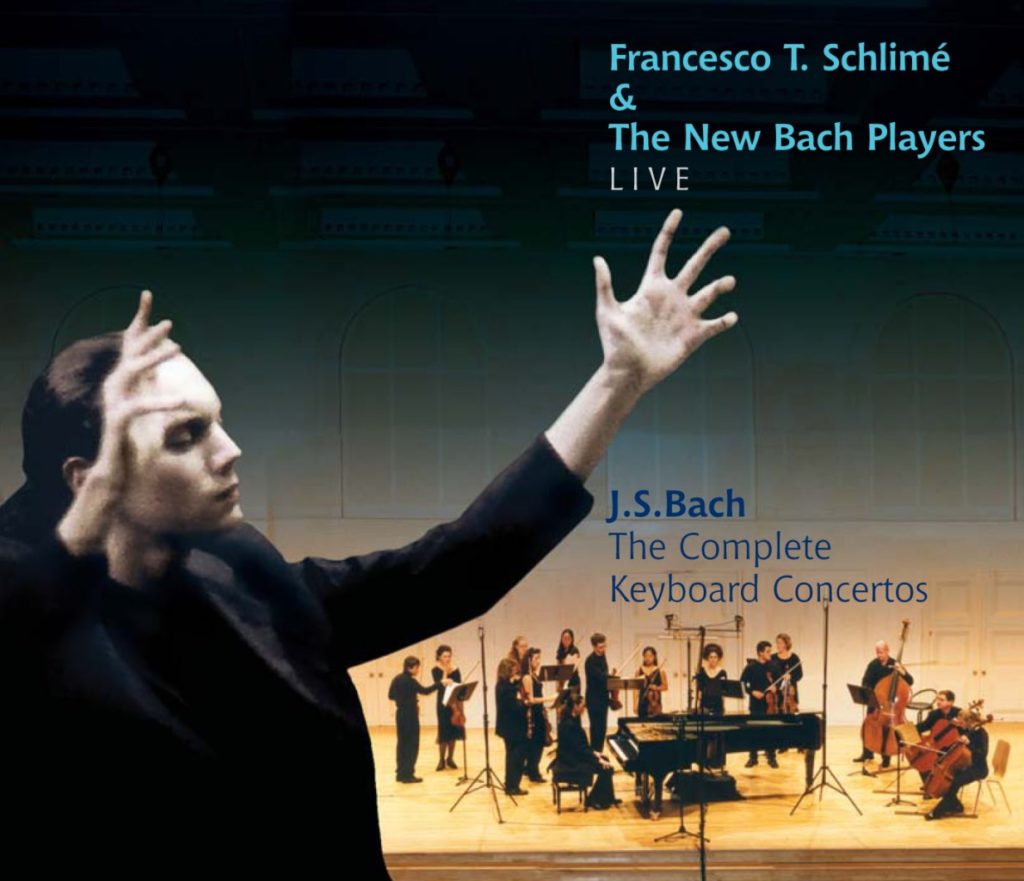 F. T. Schlimé, The New Bach Players - J. S. Bach - The Complete Keyboard Concertos
DESCRIPTION
An astonishing traversal of Bach's seven concertos for keyboard and strings, played in concert and recorded live as part of the Arsenal's cross-borders program METZ-ARSENAL.
It is, at first, the story of a passion – that of a young pianist from Luxembourg for a certain Glenn Gould. It is then the story of a meeting – that of two young musicians who have come to New York to study music. Add to that a handful of artists from all corners of the world, and an orchestra, sparkling in its originality, saw the light of day – the New Bach Players.
Shortly after his admission to the Juilliard School of Music. Francesco Tristano Schlimé met the Australian violinist Aaron Brown, and three years later, in 2001, they founded this orchestra – one as conductor/pianist and the other as concertmaster. The first concert took place at the Juilliard School in May 2002, when Francesco Tristano Schlimé received his degree of Bachelor of Music. Shortly thereafter, the New Bach Players appeared in Luxembourg, Brussels and Metz, under the keen ear of their artistic director, Bruce Brubaker, a distinguished pianist and member of the Juilliard faculty.
This has been the culmination of Francesco Tristano Schlimé's admiration for Glenn Gould – paying homage by presenting a program of Bach's complete output of  concertos for keyboard and orchestra.
In his youth, Francesco Tristano Schlimé discovered the recordings of the Canadian pianist, which, according to Francesco "revolutionized the art of piano playing". In the course of his education in Luxembourg, Brussels and Paris, Francesco cultivated his admiration for the music of Bach as did his "maître". He developed his own interpretations of the Goldberg Variations and the concertos.
Far from creating a more or less well-executed imitation of Gould's style, the New Bach Players have developed something entirely new and personal. The combination of modern practice (use of modern instruments, influence of jazz) and baroque practice (rhythmic flexibility, use of vibrato, piano without the use of pedal) creates the esthetic of the News Bach Players – light and sprightly, dynamic with a subtle jazz influence, without betraying the spirit of the score.
But the New Bach Players are characterized not only by their tone and sonority, but by their appearance on stage – sixteen musicians standing in a semi-circle around the soloist who conducts from the keyboard. Rehearsals are also a place where ideas are exchanged between the players and their artistic director, Bruce Brubaker, the "outside ear" of the group, and whose involvement has fostered the success of the ensemble.
Bach was, nevertheless, a point of setting out as an homage to Gould. Since then the orchestra has turned to other Baroque composers such as Vivaldi and Handel, and does not exclude the possibility of exploring other classic and contemporary works, as well as works by young composers.
Nadège Liénard
Translation: Marc Rubenstein
Reviews:
MusicWeb
TRACKLIST
LISTEN