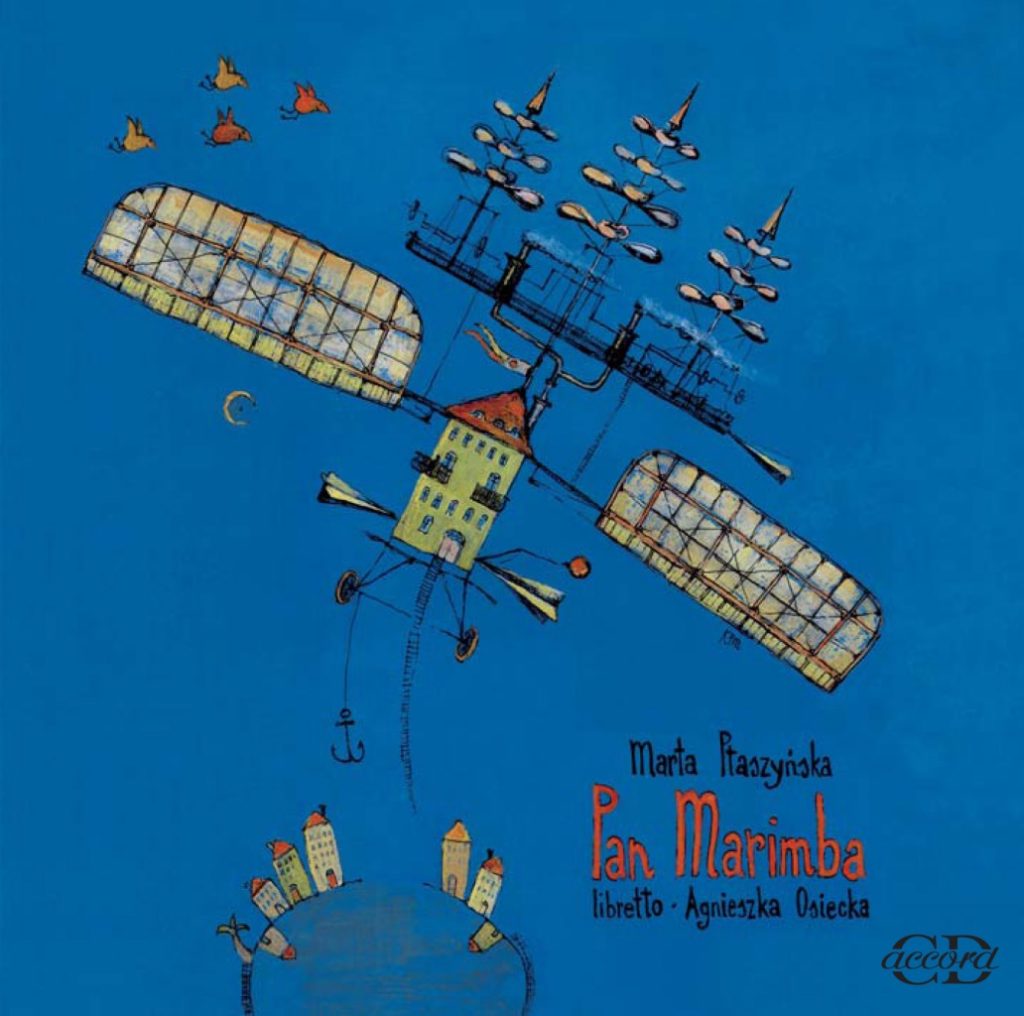 Marta Ptaszyńska: "Pan Marimba"
ARTISTS:
Jacek Parol – soloist – Mr. Marimba, Father
Anna Lubańska – soloist – Good Witch, Mother
Magdalena Gruziel – soloist – Kasia
Cyryl Wojewódzki – soloist – Marek
Olimpia Borowska – soloist – Cow
Agnieszka Stolarczyk – soloist – Lamb
Cezary Prożniak – soloist – Dog
Zofia Krawczyńska – soloist – Pony
Malwina Wojewódzka – soloist – Cat
Ewa Skowron – soloist – Goat
Anna Czaplicka – soloist – Owl
Aleksandra Wojtysiak – soloist – Twin
Aleksandra Monkiewicz – soloist – Twin
Agnieszka Lewandowska – soloist – Koliber
Marcin Tobiasz – soloist – Drumer
Aleksander Kunach – soloist – Tortilla Seller
Michał Myśliński – soloist – Dragon
Alla Polacca Choir
Instrumental ansamble of Teatr Wielki – Opera Narodowa
Sławek Adam Wróblewski – conductor
Sabina Włodarska – director of Alla Polacca Choir

RELEASE DATE: 2003
CATALOGUE NO. ACD 126
GENRE: opera music
DESCRIPTION
The idea to create a children opera to be performed by children, and based on folk stories and fairy tales from around the world, dates back to 1987. In 1993, on the basis of the original story and musical sketches, Agnieszka Osiecka, a famous polish lyricist, wrote the opera entitled Mister Marimba. The opera was written specially for the children from the choir Alla Polacca and for the national Opera in Warsaw, where it was premiered on September 27, 1998. Since that time the opera, performed for four consecutive seasons, had over 70 shows and made a phenomenal succes with sold-out performances.
TRACKLIST
LISTEN