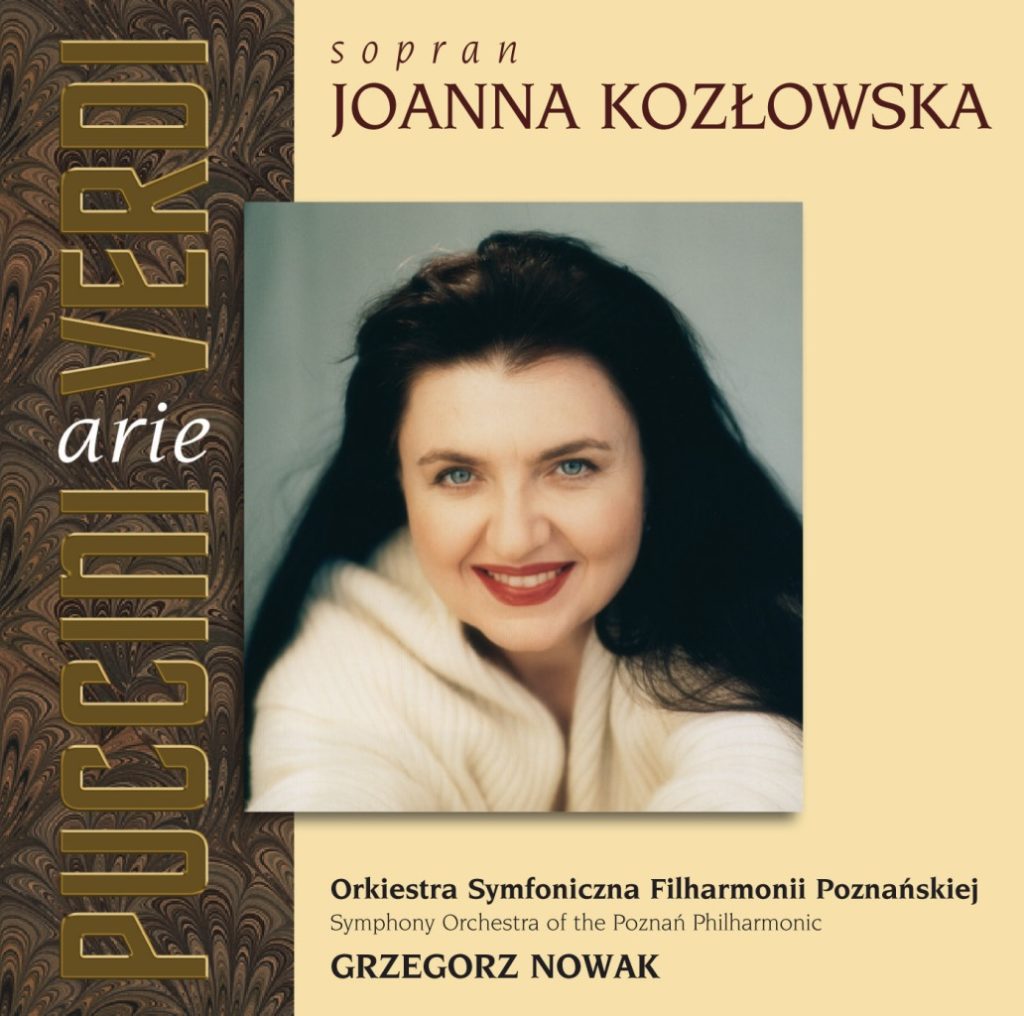 ARTISTS:
Joanna Kozłowska – soprano
Symphony Orchestra of the Poznan Philharmonic
Grzegorz Nowak – conductor
RELEASE DATE: 2004
CATALOGUE NO. ACD 135
GENRE: opera music
DESCRIPTION
The record features arias of the two most popular Italian composers, Giuseppe Verdi and Giacomo Puccini, for lyric soprano (Mimi, Lauretta, Liú) and lirico-spinto soprano (Tosca, Butterfly, Leonora, Desdemona). The earliest is the aria Pace, pace, mio Dio of Leonora from Verdi´s The Force of Destiny (world premiere in St Petersburg in 1862). In her retreat in the mountains, the heroine prays for peace for her anguished heart, for she cannot get over her great love to Don Alvaro, from whom she was parted. The arpeggios of the harp evoke the eternal peace of mind of which Leonora dreams; yet memories of tragic events bring dramatic tones into the music. Vocally, the most important are the high B flats – delicate and forceful by turns – but the basis are the long swaying phrases, the melodious legato.
The world premiere of Verdi´s Otello took place in La Scala in 1887. Act Four contains a long scene in which Desdemona, accompanied by Emilia, prepares for bed with foreboding of a looming tragedy. The anxious recitative leads to the famous Willow Song (`Piangea cantando´) once sung by Barbara, the maid of the heroine´s mother, after being left by her beloved. This sad song reflects Desdemona´s own feelings. After Emilia leaves, the Ave Maria prayer resounds, whose gentle melody brings solace. The scene allows the singer to use a wide range of tone colours and the prevailing lyrical phrases are interspersed with fragments of great dramatic tension. Giacomo Puccini was a master at portraying female characters in his operas. His music superbly characterizes Mimi, the heroine of La Bohčme (world premiere in Turin in 1896). Mimi is a modest girl who leads a dreary life with scarce moments of joy and beauty when she is embroidering or when sun rays light her attic room in Paris. She meets Rudolph, a young poet and tells him about her life in the aria Si, mi chiamano Mimi with words full of simplicity and poetry of which she is not aware. The phrases in this aria are warm and sweet while in the shorter one from Act Two (Donde lieta usci al tuo grido d'amore) tragic accents can be heard as the two lovers are separated. Memories of joyful moments are tinged with the bitterness of a farewell.
Unlike Mimi, Tosca – the heroine of Tosca (world premiere in Rome in 1900) comes from the upper classes and is a famous opera singer. Her wonderful aria Vissi d´arte, vissi d´amore is a kind of prayer. It is sung at the moment of highest tension when Tosca fights for the life of her beloved Cavaradossi against the demonic police chief Scarpia. This part is often performed by dramatic sopranos. The long legatos culminate in the two-line B flat at the top of the compass. Though emotionally very expressive, this short aria is a moment of rest between scenes of even higher dramatic intensity in Act Two.
Madama Butterfly from the opera of the same name (world premiere in Milan in 1904) is a character that evolves and matures as the plot develops. In Act One she is a small girl fascinated by her affection for a handsome American, in Act Two – a hopeful woman awaiting the return of her husband and ready for a great sacrifice in the last scenes. Arguably, the two famous arias in the opera are equally impressive. Un bel di vedremo expresses the invincible hope against the odds and Butterfly´s vision of her reunion with her loved one. Tu, tu… Piccolo Iddio – mother´s goodbye to her child before commiting a suicide – is very striking, too.
Completely different in character is Lauretta´s aria O mio babbino caro from the opera Gianni Schicchi (world premiere in New York in 1918). It is a short lyrical invocation with a charming melody. Lauretta is a young girl in love who begs her father for permission to marry her beloved. In spite of its simplicity, the aria allows a singer to prove her vocal skills. The most admirable character of Puccini´s is Liú from the opera Turandot (world premiere in Milan in 1926). The young girl-slave loves Prince Calaf with no hope of reciprocation. In the moving aria Signore ascolta she entreats him to renounce his dangerous endeavours to marry Princess Turandot. Liú was in exile with Calaf´s blind father, King Timur, and looked after him with dedication because of a smile Calaf once gave her. She knows that the old king would not get over his son´s death. In her aria Tu che di gel sei cinta Liú shows great determination in persuading Turandot of the power of love which can melt even the iciest hearts and for which she is ready to sacrifice her life. The aria precedes the suicide of Liú, who will not reveal the secret of her beloved prince. Each of Liú´s arias, although very short, bursts with emotion, enchants the listener with its melody, and shows the beauty, richness and colourfulness of the lyrical voice, finesse in phrasing and mastery of bel canto singing.

Piotr Nędzyński
Reviews:
MusicWeb
TRACKLIST
LISTEN