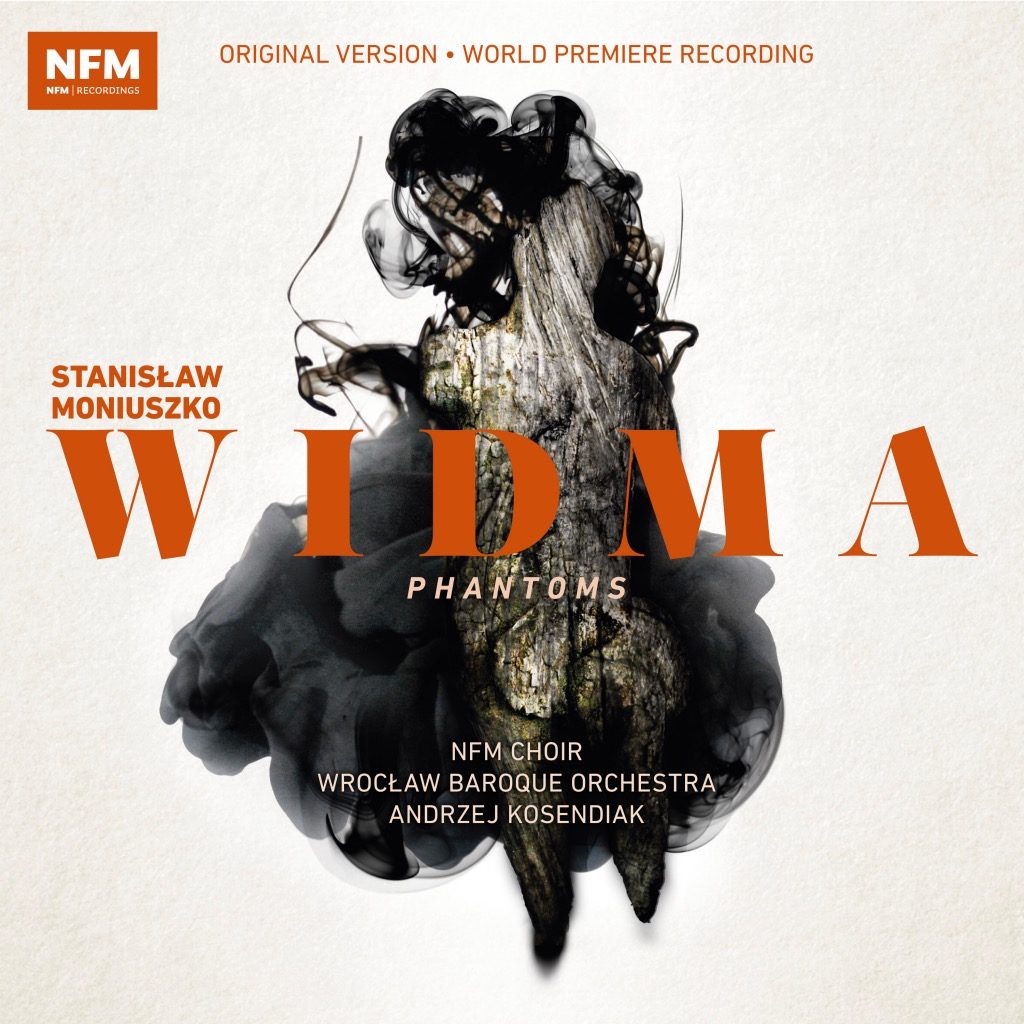 Stanisław Moniuszko - Widma - Phantoms
ARTISTS:

Andrzej Kosendiak – conductor
Jarosław Bręk – bass-baritone – Guślarz
Paweł Janyst – Guślarz
Aleksandra Kubas-Kruk – soprano – Maiden
Beata Passini – Maiden
Jerzy Butryn – bass-baritone – Phantom
Przemysław Wasilkowski – Voice
Joanna Rot – mezzosopran – Owl
Anna Wieczorek – Owl
Dominik Kujawa – baritone – Raven
Mariusz Bonaszewski – Raven
Antoni Szuszkiewicz – boy soprano – Little Angel
Mikołaj Szuszkiewicz – boy soprano – Little Angel
Chór NFM
Agnieszka Franków-Żelazny – artistic director
Wrocławska Orkiestra Barokowa
Jarosław Thiel – artistic director
Małgorzata Podzielny – ptutor to soloists of NFM Boys' Choir
Paweł Passini –
director of spoken parts
RELEASE DATE: 05/2018
CATALOGUE NO. ACD 243
GENRE: oratorio and cantata music
DESCRIPTION
The latest CD of the National Forum of Music and CD Accord features Phantoms – a cantata by Stanisław Moniuszko according to Part II of Adam Mickiewicz's Forefathers' Eve. The recording produced by prominent singers – among others Jarosław Bręk, Aleksandra Kubas-Kruk and Jerzy Butryn, as well as actors, the NFM Choir and Wrocław Baroque Orchestra under the direction of Andrzej Kosendiak – is the first in the original version, cleared of subsequent editorial changes. The album, which is the world premiere of the recording, is a rarity on the publishing market. The reconstruction of the score was made by Maciej Prochaska, whose commentary was included in the booklet for the album. The CD materials include an essay by Grzegorz Zieziula, who specialises in the history and theory of 19th-century music and works at the Institute of Art of the Polish Academy of Sciences.
'Stanisław Moniuszko (1819–1872) is today best known as "the father of Polish opera" and the author of Songbook for Home Usepublished with a wide range of audiences in mind. However, he was also a creator of cantatas, in which unlike any other Polish composer, he knew how to combine the typically operatic element of drama with characteristic lyricism and the meditative aura of songs. His cantatas are large-scale, multi movement vocal-instrumental works, containing certain traits of both genres. Like his 'Lithuanian' cantatas to texts by Józef Ignacy Kraszewski, written at the turn of the 1840s or his 'Petersburg' Madonna inspired by Petrarch's Sonnets, his later Mickiewicz-inspired Phantoms and Crimean Sonnets have seldom been recorded. Consequently they remain little known to Polish music-lovers. […]
The authors of this recording aspired to restore the score to its original version, as closely related as possible to the composer's intentions, which of course required purging the work of all later corrections, 'improvements' and editorial changes made in the first place, shortly after the composer's death by his good friend and colleague, Adam Münchheimer (1830–1904). Neither was Władysław Żeleński – so often critical of Moniuszko – able to resist a temptation of interfering in the work. The difficult task of the present reconstruction was undertaken by Maciej Prochaska […]. 
The Wrocław initiative of a gradual availability on disc of Moniuszko's entire cantata output will give music-lovers a unique opportunity of making some startling discoveries. Admittedly one cannot help feeling that a quest for accomplished musical adaptations of known and less known literary works by leading Polish 19th century writers and poets, brings far greater satisfaction to historians and Polish language scholars fascinated by native culture, than to music critics. The latter, being forever disgruntled with Moniuszko for failing to follow in Chopin's footsteps and creating masterpieces of a universal scale. One might ask why such expressions of disapproval are not directed at any of the men of letters valued by Moniuszko: at Fredro, at  Polish Romantic bards or the earlier mentioned Kraszewski. In their works we are drawn to that which is forever local and familiar, to something that helps us discover new truths about ourselves, our common past and present. 
Moniuszko undoubtedly belongs to the same category of creative artists. To paraphrase the highly perceptive thoughts of Tadeusz Boy-Żeleński, one could say that the glaring disproportion between the splendid heritage left by Moniuszko and the power of its outward diffusion is just one of the many instances testifying to our 'lordly parochial' culture. Like in the case of Fredro, Mickiewicz or Kraszewski, we have him all to ourselves. And only to ourselves.'
Fragment of Phantoms, lyric scenes from Adam Mickiewicz's 'Forefathers' Eve', an essay by Grzegorz Zieziula (Polish Academy of Sciences Institute of Art).
TRACKLIST
LISTEN