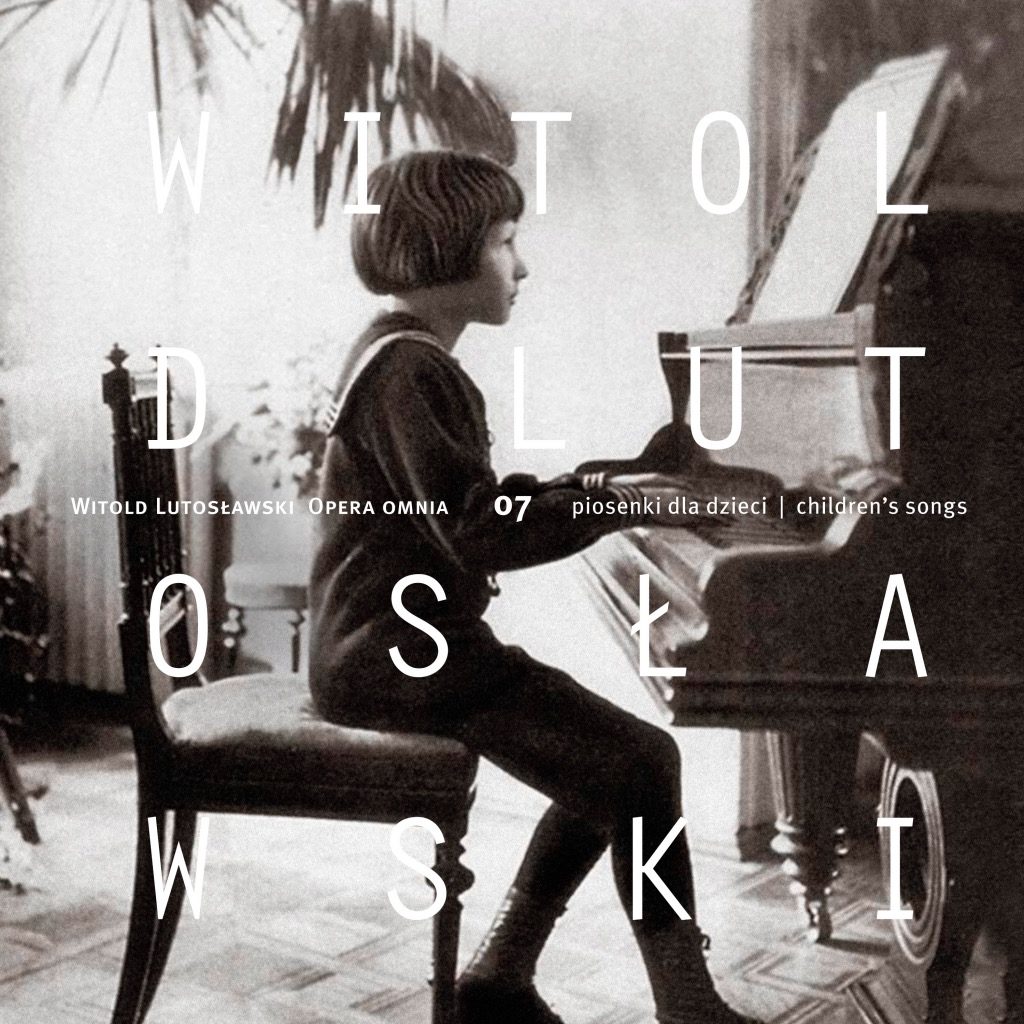 Witold Lutosławski - Opera omnia 07
ARTISTS:
Andrzej Kosendiak – conductor
Chór Chłopięcy NFM
Izabela Polakowska-Rybska – choirmaster
Małgorzata Podzielny – artistic director
Magdalena Maj – artistic director's assistant
Lutosławski Quartet
LutosAir Quintet
Instrumentalists of the NFM Filharmonia Wrocławskiej
RELEASE DATE: 05/2018
CATALOGUE NO. ACD 242
GENRE: choral music / vocal ensemble
DESCRIPTION
Witold Lutosławski Opera omnia is a unique series that has been recorded for several years by the National Forum of Music and CD Accord, in which all works by Witold Lutosławski are being recorded. The latest, seventh album of the series contains songs for children of this outstanding Polish composer performed by the NFM Boys' Choir, Lutosławski Quartet, LutosAir Quintet and NFM instrumentalists directed by Andrzej Kosendiak. Texts and notes with a melodic line have been attached to the CD. 
'Art historian Jacek Woźniakowski once questioned – half jokingly albeit quite seriously – whether an artist should be allowed to marry. One could go a step further and ask, should an artist be allowed to have children – and if they are already a fait accompli, does it have a bearing on art. […]
Like his songs of the popular music variety, his creative output for children was associated with Polish Radio, in the post-war years the principal incubator of musical creativity in every genre. The Radio was of course state-owned, like almost everything in the then "People's' Poland. Even the children were state-owned. However in the texts neither picture-postcard politics nor tiresome didactics are to be found; in fact apart from Straw Chain, namely a popular discourse on the multifarious usefulness of….straw, the texts contain hardly any didacticism. Nonetheless there is a warning against the ill-treatment of living creatures, particularly birds. (Yet with insects only useful as avian fodder). There is also some absurd humour, a handful of micro-scenes or mini-portraits, a good deal of delicate, somewhat bland lyricism, occasionally interspersed – particularly in the Tuwim texts – with an inventive humoristic concept as in the punchline of the song about the Brook. There are no black-or-white characters or clear triumphs of Good over Evil: the romantic yet egocentric Mr Nightingale confines himself to a brief apology, the fractious vegetables land in the soup regardless of what they have done while avian gossip ends up in a truly Gombrowicz-like 'dung-heap'. […]
There is a saying among artists who write for children that their profession requires greater effort and talent than writing for adults 'because a child is a demanding recipient and cannot abide falsehood'. This is partly true. On the one hand – according to Büchner's Danton – 'drunkards, children and maniacs speak the truth', on the other – children, particularly within an institutional framework, are capable of feigning interest and quite good at overacting for the sake of being left alone. […]
Hence the maxim 'like for adults, but better' is important. Lutosławski's miniatures should be performed with impeccable, perhaps even over-pronounced diction, with more than consistent intonation, with an ideal sense of rhythm and accentuation and with attention to their varied harmonic deviations and tonal harmonies. It is necessary to figure out a method of voice acting, of unobtrusively albeit decisively enhancing the voice parts and getting the punchline right, on the other hand without – exaggerated 'effects'. (A musician familiar with rhetoric would be useful, perhaps a Baroque specialist?). Furthermore, the impression – all too often prevalent in children's choirs – that everything sung is very sad, should be avoided at all costs. A difficult task, but well worth the effort. […]'.
Fragment of Rafał Augustyn's essay Lutos and the child within included in the CD booklet. 
TRACKLIST
LISTEN