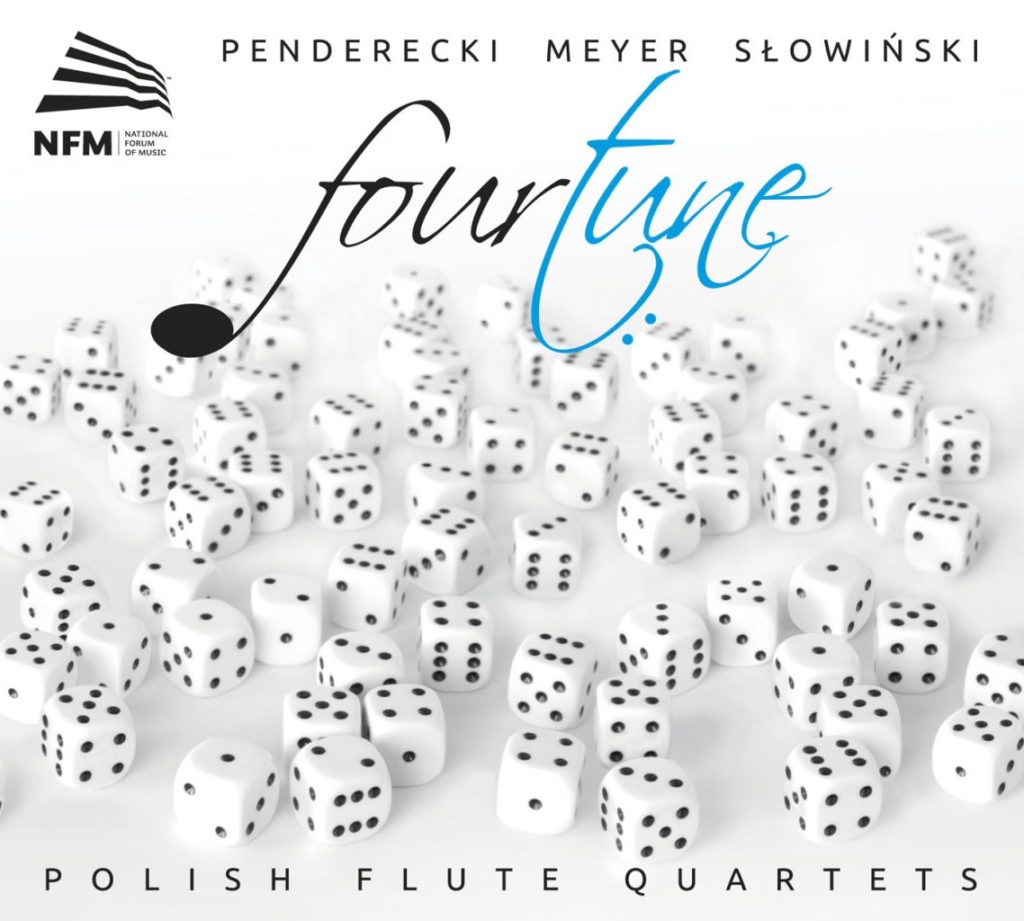 DESCRIPTION
Chamber music accounts for over half of Krzysztof Meyer's contribution, which consists of works for time-honoured traditional forces – most notably among them 13 string quartets, two quintets (clarinet and piano) and trios (piano and string) – as well as for less common instrumental pairings like his flute quartet Capriccio per sei strumenti composed in 1987–88.

A clue to the work's form and character is contained in the first word of the title as explained by the composer is his written commentary: "this is a work of a freely interpreted fantasy genre, as defined by the great 17th century music theorist Praetorius. This form enabled me to develop music through a loose juxtaposition of separate episodes which thanks to their nature endow the work with a capricious character." The second part of the title – per sei strumenti – serves
to further define the instrumental forces, since the flautist plays three various flutes: in the first movement an alto flute, in the second a standard concert flute and in the third a piccolo. Yet in reality both terms are somewhat misleading, as the work's formal structure is precisely arranged while the question of instrument numbers is other than it appears to be. For the "number" of string instruments ought to be multiplied as their varied articulation contributes to the work's palette of tone colour in no lesser degree than flute changes.
(…)
Music composed by Władysław Słowiński follows in neoclassical traditions – of works with clarity of form, expanded tonal harmony, sometimes with humoristic elements, often however drawn from earlier styles. In the case of Suite for the Royal Castle it is fully justified by the circumstances of its creation. A dedication to the Royal Castle was intended as an expression of gratitude for regular accessibility to one of the castle's chambers as a venue for annual concerts of the Warsaw Music Encounters – a festival founded in 1986 by Władysław Słowiński.
With his Suite subtitled "Baroque reminiscences" the composer wished to pay homage to a venue, which played a seminal role in the history of Polish culture. Hence the work contains so many allusions to early music where a desire to arouse certain associations is clearly discernible. The suite consists of five movements played attacca of which three are stylizations of 18th century dances and one a reference to the Royal Castle's "golden age" of music. The performance forces may also be treated as fit for purpose, indeed flautists often willingly relate that Stanisław August Poniatowski used to play their instrument. 
(…)
Krzysztof Penderecki's creative output is primarily associated with large forms – oratorios, operas, symphonies and instrumental concertos, with a far more modest contribution to chamber music. There are only two string quartets from his avant-garde period with more numerous works in Romantic style written during his later years: String Trio, Sonata No. 2 for violin and piano, Serenata for three cellos, Sextet and String Quartet No. 3. Quartet for clarinet and string trio, on this CD recorded in a version for flute, also belongs to this group and furthermore exists in an authorial transcription for clarinet and string orchestra as Sinfonietta No. 2 and – on the composer's suggestion – for saxophone quartet.

In one of his interviews the composer admitted that his source of inspiration for writing this work was the atmosphere generated by Schubert's String Quintet during a concert in the Swiss resort of Evian. Initially he sketched it "for himself" without any concrete plans, but the work was finally composed when commissioned by the Schleswig-Holstein Festival. The work received its festival premiere on 13 August 1993 in Lubeck with the participation of Sharon Kam (clarinet), Kim Kashkashian (viola) and Boris Pergamenschikow (cello).

As often happens, the composer worked on the piece till the last moment and lack of time prevented him from realizing his initial concept of a large-scale seven-movement work. Only four movements were composed: I. Notturno (Nocturne), II. Scherzo, III. Serenade, IV. Abschied (Farewell), whose titles – according to Penderecki – are meant to evoke images of Vienna. The fact that the work was to have been far more expansive gave rise to the length and dramaturgy of these four movements designed as a set on a grander scale.
Danuta Gwizdalanka (transl. Anna Kaspszyk)
TRACKLIST
LISTEN