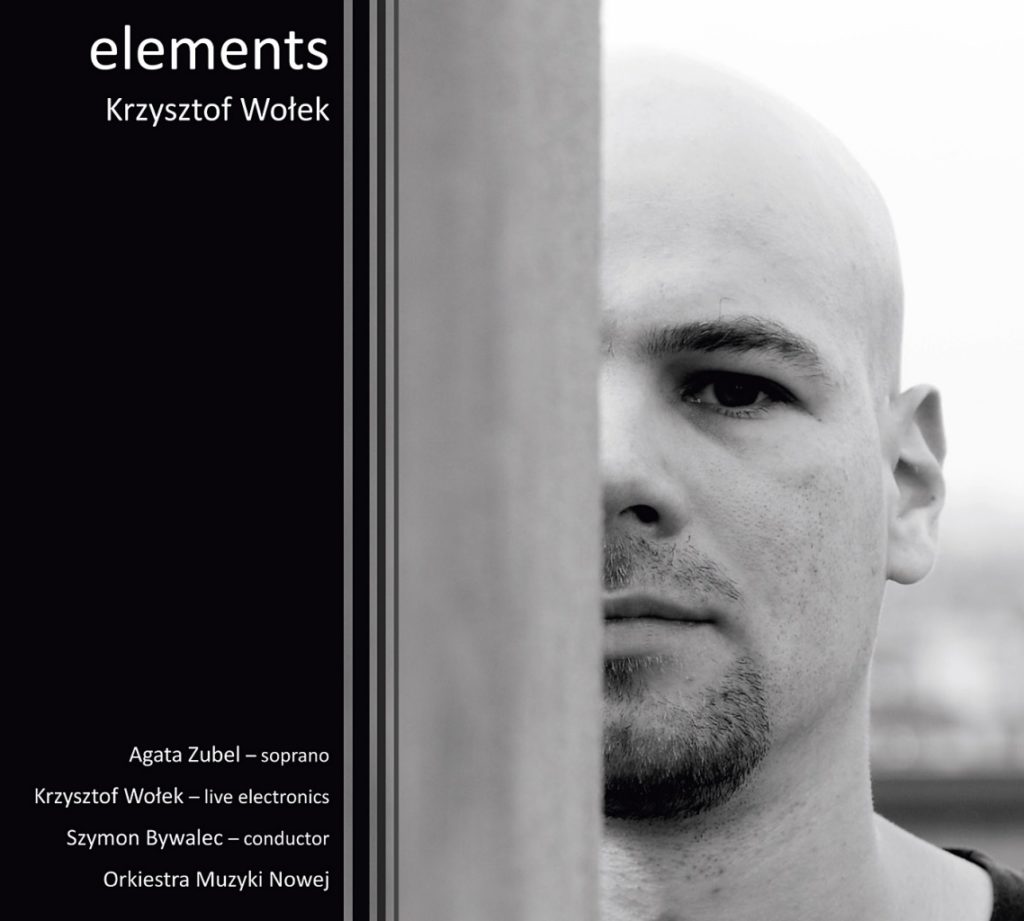 ARTISTS:

Agata Zubel
– sopran
Krzysztof Wołek – live electronics
Szymon Bywalec – conductor
Orkiestra Muzyki Nowej (OMN)
RELEASE DATE: 11/2013
CATALOGUE NO. ACD 188
GENRE: chamber orchestra
DESCRIPTION
Krzysztof Wołek (born in 1976 in Bytom, Poland) is a composer, electronic music performer, concert organizer and educator. He is a passionate advocate of contemporary acoustic and electronic music and multimedia compositions. His interdisciplinary in­ter­ests resulted in annual concerts organized under his supervision and in collaborative works with dancers and visual artists. Even the short description above is informative as concerns the position of the artist in the environment of new music, where a composer not only writes his works on manuscript paper, but also takes on an active role during performances as an improviser or performer of the live electronics portion of the work. In recent decades contemporary music has embraced a variety of multimedia arts, requiring the mastery of new technology (not only using but also developing software that serves the score as well its amalgamated sound in real time) and remaining in symbiotic coexistence with other art forms, expanding a purely acoustic layer with visual layers, either with theatrical and paratheatrical or cinematic and paracinematic elements contained often within a video component. It is within these creative currents that Krzysztof Wołek finds a myriad of possibilities for his artistic expression.
Krzysztof graduated with a PhD in composition and computer music from the University of Chicago. He has taught composition, electronic music and theory at the Karol Szymanowski Academy of Music in Katowice, Poland, Columbia College Chicago and the University of Chicago. Currently he works as an Assistant Professor of Music Composition and the Director of Digital Composition Studies at the University of Louisville. Krzysztof Wołek also serves on the jury of the Grawemeyer Award for Music Composition, is a Programming Committee Member of the Warsaw Autumn Festival and directs the University of Louisville New Music Festival.
Krzysztof Wołek finished his composition studies at the Karol Szymanowski Academy of Music in Katowice, Poland under the direction of Edward Bogusławski. Having received his M.A., he moved to The Hague to study at the Royal Conservatoire with Louis Andriessen, Martijn Padding and Gilius van Bergeijk. He developed an interest in electronic and multimedia works during courses for young composers, which were organized in collaboration with the Polish Society for Contemporary Music, studio STEIM and IRCAM. In 2001 Krzysztof Wołek moved to the United States and entered the PhD program in composition (with Marta Ptaszyńska) and computer music at the University of Chicago, where he became the Computer Music Studio Manager. His most prominent teachers included, apart from those already mentioned, Shulamit Ran and Howard Sandroff.
His pieces have been performed at international festivals such as the Warsaw Autumn Festival, (in­cluding Eppur si muove, 2007, Un claro del tiempo, 2008 and Elements, 2009), the University of Louisville New Music Festival, SEAMUS National Conference, SPARK Festival, the International Computer Music Conference, Audio Art Festival, International Contemporary Dance Conference, Musica Polonica Nova and ISCM World Music Days. He received commissions from the Warsaw Autumn Festival, the Ernst von Siemens Music Foundation, SCI/ASCAP as well as awards and grants including, among others, the Chicago Arts Grant from the University of Chicago, The Foundation for Contemporary Arts and a grant from the Polish Ministry of Culture and National Heritage. He has received many awards and prizes including the prestigious 1st Prize for Mobile Variations at the Concours Internationaux de Musique et d'Art Sonore Electroacoustiques – Bourges, 2007.
Krzysztof Wołek's body of work covers a wide spectrum, ranging from purely acoustic and electro­acoustic music through improvisations to diverse forms of installations and works verging on multimedia art. In his compositions he creates, as he himself states, 'idiosyncratic relationships between various elements'.
TRACKLIST
LISTEN