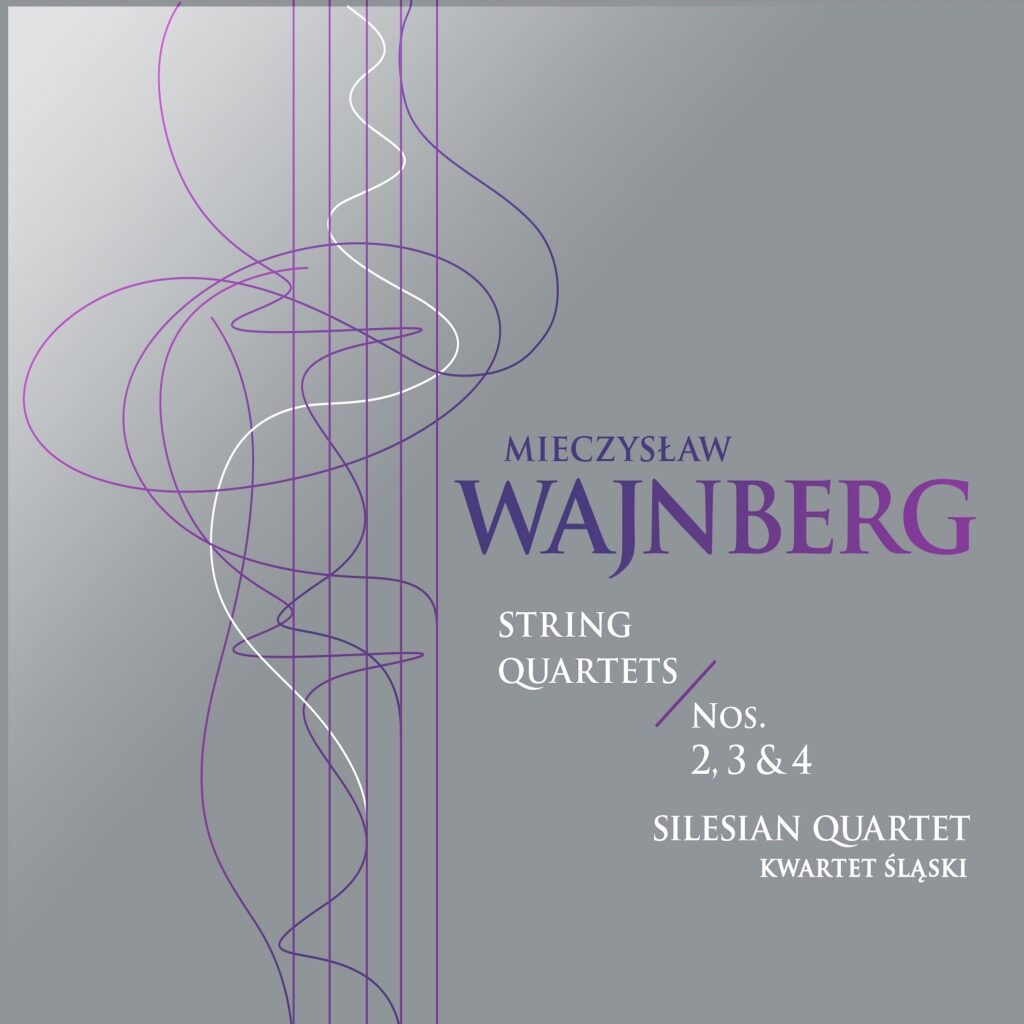 Mieczysław Wajnberg (Weinberg) – String Quartets Nos 2-4
WYKONAWCY:
Silesian Quartet
Szymon Krzeszowiec – 1st violin
Arkadiusz Kubica – 2nd violin
Łukasz Syrnicki – viola
Piotr Janosik – cello
ROK WYDANIA: 02/2022
NR KATALOGOWY ACD 291
KATEGORIA: chamber music
DESCRIPTION
Mieczysław Weinberg (Polish: Wajnberg) wrote his first string quartet in May 1937. In autumn 1939, he made his way in dramatic circumstances to the Soviet Union, and there, exempted from military service due to poor health, he was given the chance to continue his training in composition at the Minsk Conservatory. His teacher there was 67-year-old Vasily Zolotarev, once a pupil of Mily Balakirev and Nikolai Rimsky-Korsakov. Persuaded by Professor Zolotarev, or perhaps acting on his own initiative, Weinberg began writing another string quartet on 25 November. He finished this first "student work", and his second for such a line-up, on 13 March 1940. He dedicated it to his mother and sister, whose fate was unknown to him.
(…) A dozen or so months later, when Germany invaded its former ally in the summer of 1941, Weinberg was forced to flee for a second time. On this occasion, he made his way to Tashkent, to where members of the Leningrad Conservatory were also evacuated in the autumn. In December, he had an opportunity to hear his String Quartet No. 2, Op. 3 performed by these exiled musicians. Afterwards, the work probably ended up in a drawer and was shown only to composer-friends, which would explain the similarity between this piece and certain episodes from Dmitri Shostakovich's String Quartets Nos. 2 and 6, written at a later period when both composers maintained close contact. Forty-five years later, Weinberg returned to the material of his youth. Using the experience he had gained over the past decades, he made certain alterations. He changed very little in the first two movements: he made a few abbreviations, developed certain themes in a slightly different way, and added variety to others by complementing existing parts with new ones; sometimes he also changed the articulation or register. He then added a new movement in the form of a short delicate intermezzo (largely through playing con sordino and the abundance of rests between the short motifs). Relatively speaking, he made the most changes to the existing finale. And it is this new version of String Quartet No. 2, this time assigned opus number 145, that the Silesian Quartet performs on this disc.
(…)
At the end of September 1943, the fugitive from Warsaw settled in Moscow. It was not his first stay in Moscow, as he had been there earlier, in 1940, as a delegate from Minsk for an event called the Decade of Belarusian Art. It was there that he met Nikolai Myaskovsky, regarded as a leading figure in the Moscow composer community, and on his return to Moscow he naturally immediately renewed that acquaintance. Soon, he also found himself in frequent contact with Shostakovich, who had moved permanently to Moscow a few months earlier (Leningrad was still under siege). Weinberg was admitted to the Composers' Union, which was a very important step, as it opened up opportunities for performing and publishing his new works. In February 1944, he began work on his first "Moscow" piece, String Quartet No. 3, Op. 14. At the time, this was a popular genre among Soviet composers – string quartets were being penned both by older composers, including Myaskovsky, and members of the younger generation, such as Yuri Levitin, a friend of Weinberg. These new scores quickly found willing performers among the many excellent musicians based in Moscow at the time.
(…)
The Bolshoi Theatre Quartet performed String Quartet No. 4, which was dedicated to the ensemble, on 19 January 1946. In 1959, the work appeared in print as Weinberg's first published quartet, and four years later it was discussed by Lev Raaben in a monograph on Soviet chamber music. In keeping with the trend of the time, what he primarily heard in the piece were the echoes of war. The two opening movements were intended to reflect the enemy invasion and a heroic mood. The funeral march in the third movement seemed obvious given the programme of the work, and the finale was interpreted by Raabe as a reminiscence of a carefree childhood, although most listeners tend to associate it with the beginning of Mendelssohn's Octet; we do not know whether this was deliberate or accidental. Twelve years later, Ludmila Nikitina interpreted the Quartet differently. Above all else, she was struck by the echoes of Jewish music recognisable in the second movement. Her sensitive ear proved to be closer to the composer's own intentions, as years later Weinberg used this very movement in his Symphony No. 21, dedicated to the memory of the victims of the Warsaw Ghetto, entitled Kaddish, which means a prayer for the dead.
Danuta Gwizdalanka
TRACKLIST
LISTEN