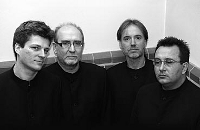 One of the most eminent chamber music ensembles in Europe. The Silesian String Quartet was founded in 1978. All of the Quartet's musicians are graduates from the Academy of Music in Katowice – the capital of the Silesia (Śląsk) region, hence the name. The Quartet perfected their skills at master classes conducted by such members as the LaSalle, Amadeus, Juilliard, Smetana or Berg. In its repertoire, the Quartet has over three hundred pieces of chamber literature, of which almost two hundred by twentieth century composers. The Silesian String Quartet has premiered one hundred works by Polish and foreign composers, with many of them dedicated to the ensemble.
In its thirty long career the ensemble has performed at such famous music festivals as: Warsaw Autumn (twenty times, with some forty works performed!), Kuhmo Chamber Music Festival in Finland, Berliner Musiktage, Inventionen Berlin, Lerchenborg-Musikdage, Musicorama in Hong Kong, Festival de Saint-Denis in Paris, Wien Modern, Romaeuropa Festival in Rome, Festival Musique et Amitié in Bienne (Switzerland), Music Host in Odense, Music-Biennale Berlin, Praga 2000, Europalia in Belgium, West Cork Chamber Music Festival in Ireland, Tongyeong International Music Festival in South Korea and many others.
The Silesian String Quartet has given about a thousand concerts in most European countries, the United States, Canada, Japan, Hong Kong, and South Korea. It has made highly praised appearances at some of the world's most renowned concert halls, including Concertgebouw and ljsbreker in Amsterdam, Konzerthaus in Vienna, Vredenburg in Utrecht, De Unie in Rotterdam, De Singel in Antwerp, Brussels Conservatory, Schauspielhaus in Berlin, Tivoli in Copenhagen, Tonhalle in Düsseldorf, Salle Pleyel in Paris, Merkin Hall and Carnegie Hall in New York, Hoam Art Hall in Seoul and Bellas Artes in Mexico City.
The Quartet regularly records for the Polish Radio and other radio stations, it has also recorded over thirty albums with music by a range of different composers, from Haydn to Penderecki, for such labels as Polskie Nagrania, CD Accord, Radio Katowice, Wergo, CPO, Olympia, Thesis, Partrige, Etcetera, Recital Company and EMI Music Polska.
Since 1993, the Quartet is organising an annual event, the Chamber Music Festival under the name "The Silesian String Quartet and its Guests", with a regular participation of many celebrated Polish and foreign musicians.
Since 2005, the Municipality of Gliwice has been the patron of The Silesian String Quartet, with the Music Theatre in Gliwice as a partner in joint initiatives.