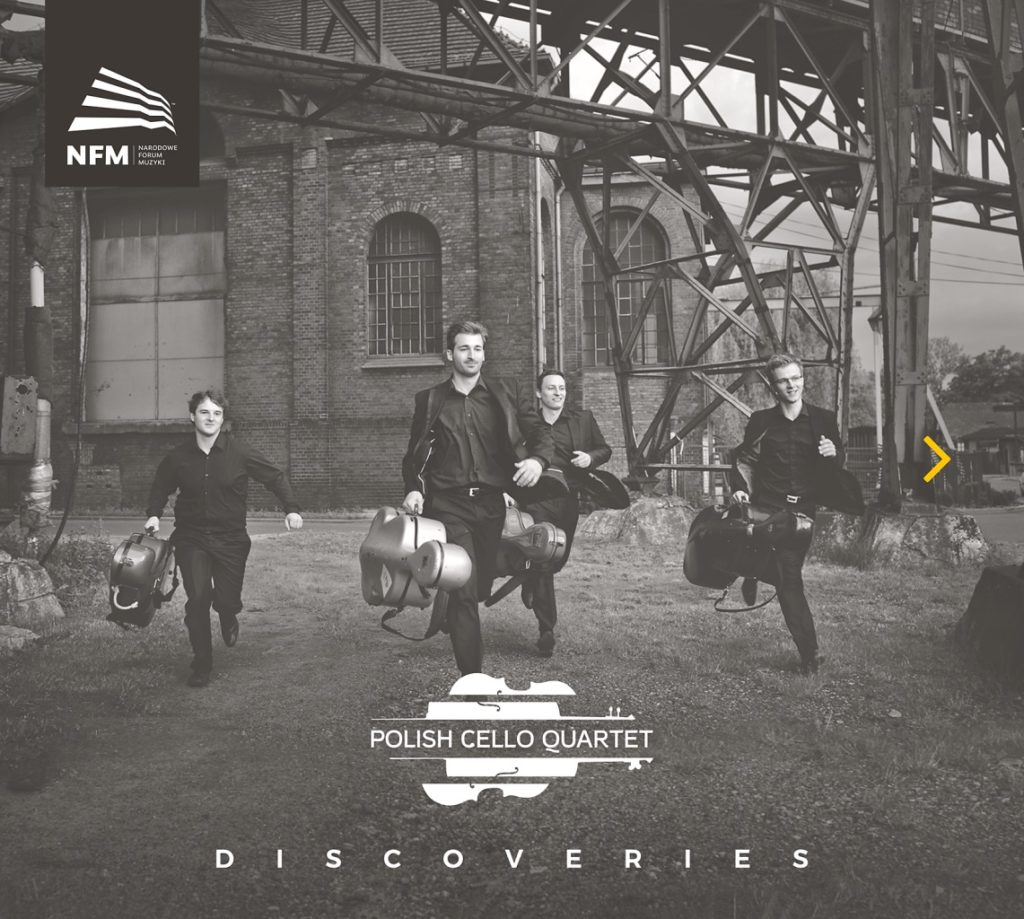 Polish Cello Quartet - Discoveries
ARTISTS:
Polish Cello Quartet
Tomasz Daroch – cello
Wojciech Fudala – cello
Krzysztof Karpeta – cello
Adam Krzeszowiec – cello
RELEASE DATE: 06/2017
CATALOGUE NO. ACD 237
GENRE: chamber music
DESCRIPTION
Polish Cello Quartet was founded in 2011 by the graduates of Lódz and Katowice conservatoires, who continued their studies in, among others, Brussels, Cologne and Mannheim. The only ensemble of this kind in Poland and one of few of this class in Europe.Since 2014 PCQ is a resident ensemble of the National Forum of Music in Wroclaw. It is a regular guest at Wroclaw festivals: Wratislavia Cantans, Musica Electronica Nova and Jazztopad, as well as appearing at the Internationaal Kamermuziekfestival Schiermonnikoog in the Netherlands; Music Masters on Air (MusMA), i.e. the platform for European festivals presenting new directions in contemporary music, and the Poznan Chamber Music Festival Q'arto Mondi.
The four young virtuosos have one goal: to put the cello quartet in one line with other chamber ensembles embedded in tradition and well established on stage. To accomplish this, they wander several paths, however sticking to the principle of building their repertoire of pieces written originally for a cello quartet by composers familiar with the specifics of this instrument, its technical and expressive capacity, and above all with its 'rhetorical' potential in the partnership of chamber playing.
Sometimes they will jump into the shoes of tireless researchers, browsing through libraries, archives and publisher catalogues in quest for forgotten compositions for cello quartet which thanks to their zeal have their
first performances on Polish concert platforms. Equipped with a knowledge of music of bygone decades and centuries, they are all the more knowledgeable in expanding their repertoire by adding contemporary works,
usually dedicated to them by superb Polish and international composers, sensitive and responsive to suggestions of their would-be performers.
They collaborate with excellent classical musicians, including Dominik Polonski and the Canadian cellist Gary Hoffman, as well as prominent jazz players, to mention such names as Tony Malaby and Nate Wooley.
They pass their experiences to younger enthusiasts: they are the masterminds and hosts of the International Cello Academy in Nysa, Poland, focusing on the advocacy of playing in chamber cello ensembles among pupils and conservatoire students. The Polish Cello Quartet is a group of genuine explorers who want and know how to share their discoveries.
Their first album – in every respect pioneering on the Polish phonographic market – contains
the fruit of their historical discoveries.
Dorota Kozinska
transl. Anna Marks
TRACKLIST
LISTEN