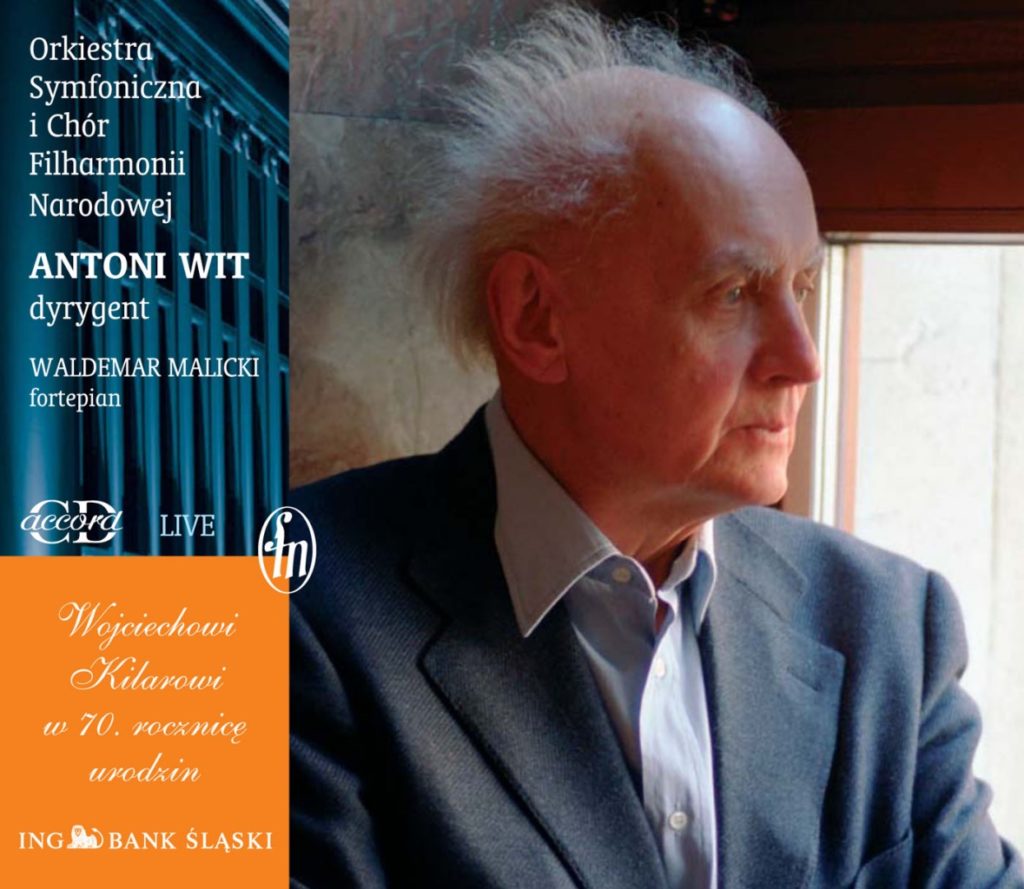 DESCRIPTION
"I have absolutely never had a feeling of rejecting anything. I may sound megalomaniac, but I always thought I was writing my music being fully conscious that it was in a way bound up with the past." (Conversations with Wojciech Kilar, published by PWM Krakow 1997).
Listening to the recordings from this CD you may think of the sources of inspiration, tradition and roots.
The symphonic poem Kościelec 1909 (1976) refers to the tradition of the genre – the fascinating hybrid of style and taste, inspired by the music itself, literature, painting, theatre and nature – a ripe fruit of the 19th century romantic consciousness. This symphonic genre flourished in the colorful orchestral medium and the expressive and illustrating language of sounds. (…)
Twenty years later, the Piano concerto (1997) reminds of the romantic tradition. After the golden age of Mozart's music of the 18th century and Beethoven's heights of expression, the genre blossoming in the 19th century (Chopin, Schumann, Liszt and Brahms) experiences its revival also in the 20th century in the music of Ravel, Prokofiev and Bartók.
In Bogurodzica (1957) written for choir and orchestra Kilar conveys a unique dramatically condensed interpretation of the hymn of the Polish knighthood. How surprising is this reading of the medieval (religious!) text – an object of national devotion – by the contemporary composer. The text takes on a form of a dynamic and forceful recitativo (declamatio). Bogurodzica built upon a breathtaking dynamism and the elementary strength of word and sound becomes this way a religious and knightly call for fighting for what is right and proper.
Exodus (1981) for orchestra and choir has double roots: spiritual and religious in the Bible; and in ravel's Bolero – as far as the structure is concerned (crescendo ostinato). (…)
A characteristic feature of the music presented here is the modus ostinato (rhythm, melody, colour) – an important construction element of wide areas of music of the 20th century. This is the evidence, however, that this music is deeply rooted in baroque and romanticism. Ostinato employed on different levels of the structure arranges the motion, unites the form, increases musical expression and eventually becomes the attribute of Kilar's style and composition technique. (…)
Today (…) it has become more obvious, that Kilar's creative achievements and his composition practice are in reality a restoration of music and lead through an apparently simple way to the musical rebirth. TYhis is a journey back to the values deeply rooted in the tradition of the Occidental and Mediterranean culture of beauty, melody, rhythm and sound. This is a return to the melodious sound language moving right through the soul and to the musical expression originating from the drama of existence and our life in spirit.
Bohdan Pociej
English translation by LINGUART, Sebastian Ostapczuk
Reviews:
MusicWeb
TRACKLIST
LISTEN