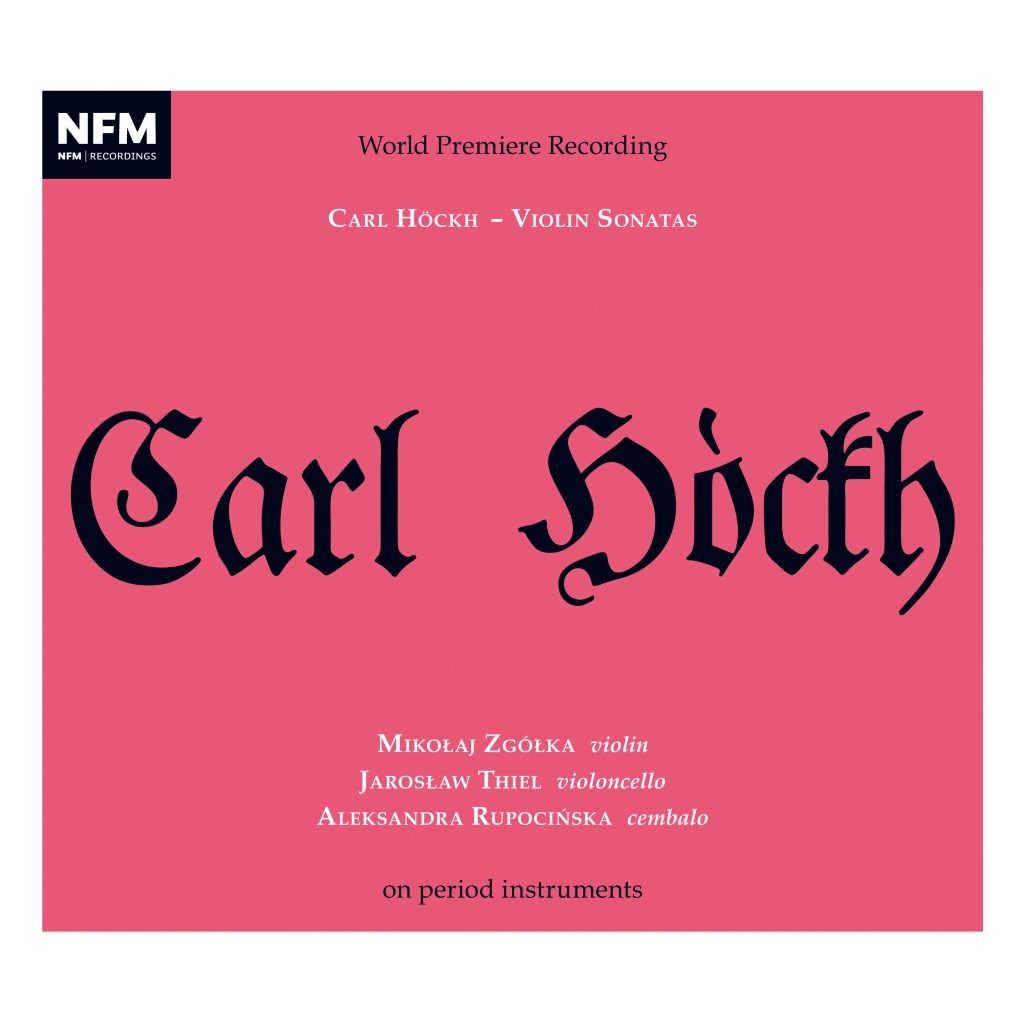 Carl Höckh - Violin Sonatas
ARTISTS:

Mikołaj Zgółka – violin
Jarosław Thiel – cello
Aleksandra Rupocińska – harpsichord

RELEASE DATE: 05/2019
CATALOGUE NO. ACD 255
GENRE: chamber music
DESCRIPTION
Carl Höckh is undoubtedly an exceptional figure. Douglas A. Lee puts the composer in line with Johann Georg Pisendel, Franz Benda and Leopold Mozart, thus recognising Höckh as one of the founders of the violin school in the German-speaking area.
Carl Höckh's work is exclusively instrumental. According to the current state of research, it includes several symphonies, violin sonatas, parthien, capricetti and violin concertos.
This album features sonatas from two sources: Die Sächsische Landesbibliothek – Staats–und Universitätsbibliothek and Musikalisches Vielerley in the edition of Carl Philipp Emanuel Bach (Hamburg 1770). The featured works present a variety of styles in the same form.

The order in which the works on this album are arranged is not a coincidence – it partly refers (where possible) to the tonal relationships. Most interesting is the relationship between the first and the last sonata. Both works in the key of D major are almost identical in their texture. The first movements show an unusual similarity, although the final Sonata in D major has many more ornaments. The second movements remain almost identical, while the third movements have a common opening motif, but their developments and subsequent virtuoso performances evolve in completely different directions. These two works flanking the whole album are an interesting example of Carl Höckh's development of form and composing inventiveness.

A characteristic feature of all the works on this album is the enormous wealth of virtuoso means of expression. Höckh is much more demanding on the performer than his contemporaries. The use of dichords, entry to the eleventh position, unusually fast arpeggios, and even the use of tenths in dichords – these are but a few examples of the challenges facing the violinist. The melodics, harmony and motifs of Höckh's works show distinctive features of the galant style. Since the exact dates of the sonatas cannot be determined – all materials were written by the hand of another copyist or published at a later date – their only chronological determinant is their stylistic characteristics. Rhythms, some melodic phrases and ornaments show explicit references to the Berlin school of the second half of the 18th century. Despite some idiomatic treatment of the violin texture, the means used are often quite bold and demanding. Sudden jumps from the first to the sixth position, placing the work in the specific key of E major, not easy for the violin, are examples of breaking the instrumental convention and seeking new performance and sound possibilities. All these elements, in combination with the lyricism of the slow movements, allow us to define the work of the concertmaster from Zerbst as Pre-Romantic. The achievements of Carl Höckh are undoubtedly a very important stage in the development of German and European violin music. It is mind-boggling why so far there have been no contemporary editions of his music, in addition to a deplorable lack of recordings on the phonographic market, which this CD has the task of compensating for, if only in a modest way.

Mikołaj Zgółka
Translation: Anna Mark
TRACKLIST
LISTEN