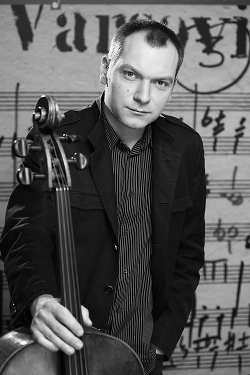 Winner of international competitions in New York, Baltimore, Leipzig, Ljubljana, Viña del Mar (Chile) and Kuhmo (Finland). Recipient of 'Polityka' magazine's "Passport" award, four "Fryderyk" awards and the Polish Culture Foundation's – "Mini Sceptre" award.
As soloist he has given concerts in Europe, both Americas, Africa and Asia (in Japan a recital in Tokyo's Suntory Hall) and has performed with many foreign orchestras among others in Los Angeles, Bogota, Santiago, Moscow, Helsinki, Budapest, Palermo and Munich (the Munich Philharmonic). He has also appeared at renowned festivals in Poland, Puerto Rico, Chile, Germany, Czech Republic, Finland and Russia. At home he regularly performs and records with such ensembles as Sinfonia Varsovia, Sinfonietta Cracovia, PNRSO, Polish Radio Orchestra and the Warsaw Philharmonic Orchestra. His successful debut with the latter under the direction of Stanisław Skrowaczewski resulted in a joint foreign tour and a recording of Lutosławski's Cello Concerto under the baton of Antoni Wit. Since his 2001 performance in Berlin of Penderecki's Viola Concerto under the baton of the composer and his participation in the premiere of Concerto Grosso, the cellist is regularly invited by Krzysztof Penderecki to Polish and foreign performances of his concertos and their recordings.
Apart from his commitments as a soloist, Rafał Kwiatkowski is a dedicated chamber player and has enjoyed performing on world stages with such artists as Christoph Eschenbach, Maxim Vengerov and Krystian Zimerman with whom in 2009 he performed a series of concerts recorded for Deutsche Grammophon. He often appears in concert as part of a trio with Vadim Brodski and Waldemar Malicki and is also a member of the Warsaw Quintet, reactivated after twenty years by Stefan Kamasa.
Since 2005 Rafał Kwiatkowski holds the post of Assistant Lecturer at Warsaw's Fryderyk Chopin University of Music.