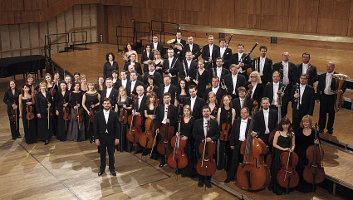 Polish Radio Symphony Orchestra
The orchestra's history goes back to years before World War II. In 1945 the post of the Orchestra's artistic director was filled by the violinist and conductor Stefan Rachoń, followed by Włodzimierz Kamirski, Jan Pruszak and Mieczysław Nowakowski. During the tenure of Tadeusz Strugała (1990–1993), the ensemble was given its present name and moved to the brand-new Witold Lutosławski Polish Radio Concert Hall. In 1993–2006 the position of the Orchestra's artistic director was held by Wojciech Rajski.
In March 2007 Łukasz Borowicz, who had already performed and made recordings with the orchestra for a number of years, was appointed its artistic director. The Orchestra's CD featuring Schumann's works – conducted by Borowicz, with the cellist Dominik Połoński – won the Fryderyk Award of the Polish recording industry (2007). The Orchestra inaugurated the 2007-08 season with a concert performance of Verdi's Falstaff, and in March 2008 presented Cherubini's Lodoïska at the 12th Ludwig van Beethoven Easter Festival in Warsaw (staged under the artistic supervision of Christa Ludwig). Both operas were released on CDs by Polish Radio, and the Lodoïska album was nominated for the Midem Classical Award as well as the Fryderyk Award.
The 2008-09 season began with a concert performance of the opera Maria by the Polish composer Statkowski (released on CD). The Orchestra also recorded Grażyna Bacewicz's complete violin concertos (with Joanna Kurkowicz as soloist), co-produced by Polish Radio and Chandos. During the 13th Ludwig van Beethoven Easter Festival, the Polish Radio Symphony Orchestra performed Spohr's opera Der Berggeist (also released on CDs). The Orchestra's 3CD-album of Panufnik's works recorded under Łukasz Borowicz was a joint project with cpo.
The orchestra continued its Easter Festival performances and subsequent CD releases of the lesser known operatic repertoire with Weber's Euryanthe (2010), Donizetti's Maria Padilla (2011) and Montemezzi's L'amore dei tre re (2012). They also recorded Laks's opera L'Hirondelle inattendue (the first Polish performance of the original French version). Another important premiere was the concert performance and CD release of Dobrzyński's opera Monbar or the Filibusters (2010), unearthed after 150 years. The 2011-12 season opened with a production of Nowowiejski's opera The Legend of the Baltic.
In the coming months, the orchestra will continue its series of recordings with leading Polish singers. The releases to date include recordings with Piotr Beczała (for Orfeo), Artur Ruciński (for Polish Radio) and Mariusz Kwiecień (for Harmonia Mundi). A new CD with Piotr Beczała is forthcoming.