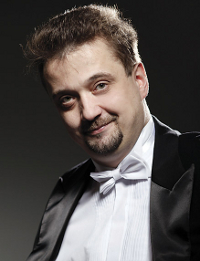 Piotr Kępiński
Born in 1974, studied with Katarzyna Popowa-Zydroń at the S. Moniuszko Academy of Music in Gdańsk, with Wojciech Świtała at the Postgraduate Piano Study and with Kevin Kenner at his master classes.
The pianist has toured with concerts in the United States, South Korea, Italy, Switzerland, Germany, The Netherlands, and Ukraine. He frequently dedicates his recitals to one selected composer, playing e.g. both cycles of Chopin's Études. He has performed with such excellent musicians as Jadwiga Kaliszewska, Konstanty Andrzej Kulka, Antoni Cofalik, Bartosz Bryła, Marcin Baranowski, Lech Bałaban, Vadim Brodski, Rafał Blechacz and Katarzyna Popowa-Zydroń.
He is frequently invited to international courses and competitions as an accompanist. He accompanied the participants of the 12th International Henryk Wieniawski Violin Competition in Poznań, winning the highest critical acclaim, which led to his invitation to the next edition of this event as the Competition's official pianist. He was twice awarded the diploma of the Jan Rakowski Viola Competition "for his unique contribution to the artistic value of music performances during the auditions" (Poznań 2003 and 2008).
In the last few years, the artist has focused exclusively on extending his solo repertoire and on teaching activity. In 2005, he obtained a doctorate in musical arts. As assistant professor, he teaches a piano class at the Instrumental Department of the F. Nowowiejski Academy of Music in Bydgoszcz, where he works with Katarzyna Popowa-Zydroń. Since 2009 he has also been the head of the Inter­departmental Chair of Chamber Piano at the same academy.