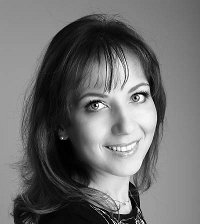 An accomplished concert pianist and chamber musician, she was born in Rivne in Ukraine. She took piano lessons from the age of 3 and attended a school for exceptionally talented children in Lviv. She continued her musical education at the Lviv Conservatory and
completed her post-graduate studies with Andrzej Stefański at the Fryderyk Chopin Music Academy in Warsaw and with Staffan Scheja at the Royal Academy of Music in Stockholm.
She has been awarded prizes at the Nordic Piano Competition in Denmark, the International Piano Competition in the USA and the Umberto Micheli International Piano Competition in Italy and has performed with leading orchestras in Europe, the United States and Japan.
She has recorded for Radio and Television as well as the record labels: Opus 111, Naxos, Pro Musica Camerata, Musicon and True Track Production. Her solo album The fourth dimension with the music of Johann Sebastian Bach and Olivier Messiaen received the highest rating (five stars) from the "Muzyka 21" magazine. The recording of Mozart songs with her sister Olga Pasichnyk, was honoured with the Cyprian Kamil Norwid Award and their joint project Chopin – Complete Songs released by Naxos in the Chopin Year 2010, was critically acclaimed by the magazines "Polityka" and "Ruch Muzyczny".
Natalya Pasichnyk holds the post of Professor at the Royal Academy of Music in Stockholm.