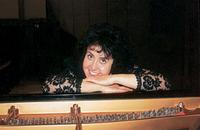 She studied piano with Tadeusz Zmudzinski at the Cracow Music Academy and graduated with first class honours. She improved her pianistic skills with Andrzej Jasiński in a postgraduate course at the Warsaw Music Academy and next with Karl-Heinz Kämmerling at Hochschule für Musik und Theater in Hannover.
She won the first prize and special award at the First All-Polish Szymanowski Competition in Lodz (1983), the special award from `Estrada Młodych´ , a prize at the 18th Festival of Polish Piano Music in Slupsk (1984). She won two scholarships from the Chopin Society in Warsaw (1983, 1984). She won the special award at the international competition (for piano competition prizewinners) at Palm Beach in Florida in 1989. In 1990 she won second prize at the 5th International Chopin Competition in Majorca. In 1991 she won third prize at the Chopin Competition in Cologne.
She has performed solo in many Polish and foreign festivals, including those in Naples, Marianske Lazne, Duszniki, Turin (Settembre Musica), Pyongyang, Madrid and Bilbao. In 1994 she initiated master classes in Krynica, of which she was artistic director and where she taught together with Kevin Kenner. Since 2002 she has been artistic director of the Summer Music Festival in Krynica. She has given concerts in Austria, Germany, Belgium, Spain, Norway, Sweden, Russia, Italy, and the USA. She has made recordings for Polish Radio, Polish Television and for Polskie Nagrania.
Since 1986 she has been teaching piano at the Cracow Music Academy.