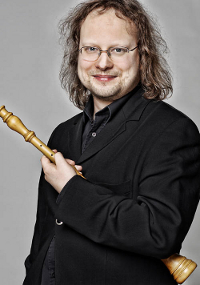 A graduate of the Music Academy in Poznań, where he studied oboe with Mieczysław Koczorowski, the Royal Conservatory in the Hague, where he studied Baroque and Classical oboe with Ku Ebbinge and the Hochschule für Musik und Theater in Leipzig, where he studied with Wolfgang Kube. Since 1998 he has been collaborating with the Warsaw Chamber Opera, where he heads the woodwind section. He is principal oboe with the Wrocław Baroque Orchestra and gives concert performances with the majority of Baroque ensembles in Poland as well as ensembles abroad including Musica Florea, Collegium Marianum, Musica Aeterna, Batzdorfer Hofkapelle, Exxential Bach, Cammermusik Potsdam, and Lautten Compagney.
In 1996 he received the Artistic Award of the City of Poznań awarded for outstanding artistic achievement and in 2002 the Zofia Rayzacherowa Prize for "the greatest artistic originality in the sphere of early music" awarded during the 12th Festival of Early Music at the Royal Castle in Warsaw.
He is co-founder of the period instruments ensemble, La Forza Gentile which is the first and only Polish ensemble to reach for musical literature of the 18th and 19th century, commonly known as Harmoniemusik. He is also the instigator and artistic director of the International Early Music Summer School in Lidzbark Warmiński.
He teaches Baroque oboe at the Music Academies of Poznań and Kraków.