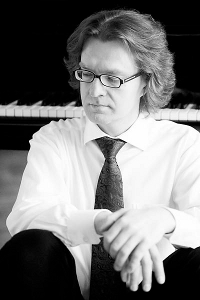 The artist graduated in 1996 from the Karol Szymanowski Academy of Music in Katowice after studies with Maria Szwajger-Kułakowska. In 1999 he obtained a doctoral degree in chamber music from the Henryk Wieniawski Academy of Music in Poznań, where he currently works as a lecturer. He studied piano and chamber music at master classes and courses conducted by Isaac Stern, Leon Fleisher, Bruno Canino, Emanuel Ax, Eric Frieser and members of the LaSalle, Juilliard, Emerson and Guarneri Quartets.
He was awarded in chamber music competitions in Paris and Gdańsk (1st prizes), as well as Pörtschach, Vercelli and Kraków. As an accompanist he won awards at several international and national violin competitions, including recently – the International Henryk Wieniawski Violin Competition in Poznań (2011) and the International Aram Khachaturian Violin Competition in Yerevan (Armenia, 2012). He was an official accompanist in the Joseph Joachim International Violin Competition in Hannover (2006), the Benjamin Britten Violin Competition in London (2008), and the International Henryk Wieniawski Violin Competitions in Poznań (1996, 2001, 2006 and 2011). A CD with a live recording from the 2006 Henryk Wieniawski Competition featuring Marcin Sikorski and the 1st prize winner – Agata Szymczewska won the Fryderyk 2006 Award.
Marcin Sikorski has toured Poland, the United States, Russia, Germany, Austria, Belgium, the Netherlands and Ukraine. In 2001 he took part in the Isaac Stern Chamber Music Workshop at Carnegie Hall in New York and made his debut in that famous venue, playing the piano trio by Ludwig van Beethoven. He has also performed at numerous national and international music festivals, including the Schleswig Holstein Music Festival, Festival Pontino, New Music Marathon, and Bratislavské Hudobné Slávnosti.