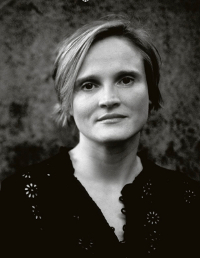 Lucy Wakeford is one of the most outstanding harpists of her generation. In 2002 she was appointed principal harp of the Philharmonia Orchestra. Much in demand as a soloist, recitalist and ensemble player she has performed at major venues (the Queen Elizabeth Hall, Purcell Room and Wigmore Hall) and festivals throughout Europe, appearing as guest artist with musicians, including Roger Vignoles, John Mark Ainsley, Michael Chance, Sir James Galway and the Belcea Quartet. She is principal harp of the Britten Sinfonia and harpist of the Nash Ensemble.
She has appeared at the City of London and Cheltenham International Festivals and gave several performances of Mozart's Concerto for flute and harp with the London Chamber Orchestra conducted by Christopher Warren-Green. The artist also undertook an Arts Council England 'Around the Country' tour with the Wakeford Ensemble and gave recitals in Tunisia. As a concerto soloist Lucy has appeared with the London Symphony Orchestra, the Royal Philharmonic Orchestra, the Academy of St Martin in the Fields, the Bournemouth Symphony Orchestra, Israel Philharmonic Orchestra, Guildhall String Ensemble, the Ulster Orchestra, City of London Sinfonia, the London Festival Orchestra and the BBC Concert Orchestra, among many others.
She has recorded the Mozart's Concerto in C major for flute and harp with the Britten Sinfonia and Dohnányi's Concertino with the English Sinfonia on the BMG and ASV labels respectively. In 2008 she recorded the Lutosławski's Double Concerto with Nicholas Daniel and the Wrocław Philharmonic Orchestra in Poland.
Lucy studied with Daphne Boden and Marisa Robles at the Royal College of Music and with Gérard Devos in Paris and Skaila Kanga in London and was selected for representation by Young Concert Artists Trust in 1998. During her studies she won top prizes in numerous national and international competitions, including the 1st prize in the Louis Charpentier Competition in Paris (1996), 1st prize in the World Harp Festival Competition in Cardiff (1991) and 2nd prize in the 10th International Harp Contest in Israel (1988).