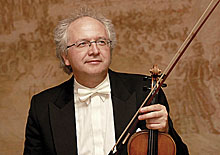 He graduated from Warsaw's Fryderyk Chopin Academy of Music after violin studies with Zenon Brzewski and Mirosław Ławrynowicz. Winner of music competitions and frequent participant of violin master classes in Poland and abroad, as well as of the "Week of Talents" Festival in Tarnów.
He has performed as a chamber musician in Finland, France, Germany, Spain, Great Britain, Japan and Italy, and as a soloist in Germany, Spain, Japan, the United States and the United Arab Emirates. He has also collaborated with Polish Radio Music Department, receiving the Radio and Television Committee Award for his cycle of broadcasts about Paganini's 24 Caprices Op. 1 for solo violin. He has made numerous recordings for record labels and radio archives.
Jan Lewtak is the author of many arrangements for chamber orchestra. For the Chopin Year, he was commissioned by PWM Edition to arrange Fryderyk Chopin's both concertos for piano and string orchestra.
The artist has been a member of Warsaw Philharmonic Symphony Orchestra since 1983. In 2001 he founded Warsaw Philharmonic Chamber Orchestra and became its artistic director.