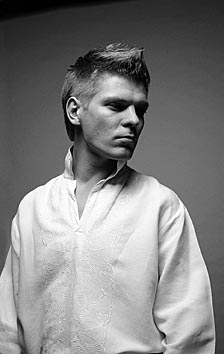 He graduated with honours from the Wrocław Karol Lipiński Music Acade­my at Professor Jerzy Mrozik's class. For prominent achieve­ments, he was awarded a honorary Primus Inter Pares title by the Vice-Chancellor's Council.
He was awarded at numerous flute contests at home and abroad, including the ones in Warsaw, Cracow, Bucharest and Città di Aversa. He has won Ministry of Culture and Art, and Silesian Voivideship scholarships. He participated in numerous master classes, perfecting his technique and interpretation under the guidance of such masters as Patrick Gallois, András Adorjan, Jeanne Baxtresser, Julius Baker, János Bálint, Mirjam Nastasi, Peter-Lukas Graf.
He is an active musician. As soloist and chamber musician, Jan Krzeszowiec took part in many festivals, including the Warsaw Autumn, Musica Polonica Nova, Musica Electronica Nova, Paweł Szymański Festival, The Silesian String Quartet and its Guests, Music on the Heights, Young Artists in Cracow, Witold Lutosławski Lublin Contempo­rary Art Forum, Cantus Organi, Wrocław Guitar Festival, Eastern Music Festival in Greensboro (USA).
Since 2001, he has been a flute soloist at Witold Lutosławski Philharmonic Orchestra in Wrocław. He collaborates with a number of ensembles, including Trio Aristos, Silesian String Quartet, Wratislavia Chamber Orchestra, Morphing Vienna Chamber Orchestra, Polish Chamber Philharmonic Sopot, The New Music Orchestra, Leopoldinum Chamber Orchestra, Film Harmony Orchestra.
At present, he teaches at the Music Academy he had graduated from, and also at the Karol Szymanowski Academy of Music in Katowice.
Since 2007, he has been Vice-President of the Polish Flute Players Society.