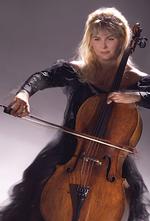 She studied with Witold Herman at the Cracow Music Academy and graduated with first class honours. She improved her skills with Miloš Sádlo, Daniel Szafran, Michael Schwalbe. She has won prizes at numerous competitions. In 1989 she won the special award from Hochschule für Musik in Cologne in recognition of her talent and artistic skills and for her performance of music by Krzysztof Penderecki. Her repertoire ranges from J.S. Bach to contemporary music by Penderecki, Lutosławski and others. She has premiered over fifty solo cello pieces composed specially for her. Besides, she is an esteemed interpreter of Jewish music, both traditional and classical. In 2000 she performed Fredrick Kaufman´s Cello Concerto "Kaddish" (Polish premiere).
Dorota Imiełowska has worked with many distinguished artists, including Halina Czerny-Stefańska, Elżbieta Stefańska and Kaja Danczowska. She has participated in numerous concerts and festivals in Europe, Asia and the USA. In 1994 she took part in the famous concert Hommage á Lutosławski during the Warsaw Autumn Festival – she played Grave for cello and string orchestra by Lutosławski with huge success. Invited by Penderecki, she presented his solo and chamber pieces at various concerts in Germany, Italy, Czech Republic and Poland. In the Chopin Year (1999) she went on a world tour with Krystian Zimerman´s Polish Festival Orchestra as cello concertmaster.
Dorota Imiełowska is an author and organizer of many artistic projects. She makes recordings for television, radio and record companies. She has published three solo albums Cello, In Memory (with premiere pieces by Polish composers) and Valse sentimentale. She also teaches cello at the Cracow Music Academy.