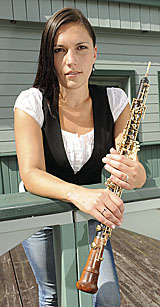 She began her oboe lessons at 14 with Marzena Jaremko, receiving a scholarship of the Polish Ministry of Culture and National Heritage for outstanding achievements in the field of music in 2000. In 2005 she graduated with an honours degree from Warsaw's Fryderyk Chopin Academy of Music after studies with Stanisław Malikowski. She developed her abilities with such oboists as Jean-Louis Capezzali, Jérôme Guichard, Stefan Schilli, Ingo Goritzki, Diethelm Jonas, and Volker Braun.
She is the winner of, among others, the special prize in the International Oboe and Bassoon Competition in Łódź (2005). She took part in international oboe competitions in Belgrade (2001) and Tokyo (2003) as well as the ARD-Wettbewerb in Munich (2007, 2008). She also qualified for the International Music Competition in Geneva (2010).
In the last several years she has led a busy concert life as a soloist and chamber musician. She has collaborated with such orchestras as Sinfonia Varsovia, Sinfonietta Cracovia, Wrocław Chamber Orchestra Leopoldinum, Polish Radio Orchestra, Amadeus Chamber Orchestra of the Polish Radio, Sinfonia Viva (e.g. on the Gold Record with film music by Krzysztof Komeda and Waldemar Kazanecki). In 2003–2004 she played in the European Union Youth Orchestra. She has been a member of Warsaw Philharmonic Symphony Orchestra since 2003 and has collaborated with Warsaw Philharmonic Chamber Orchestra since 2004.