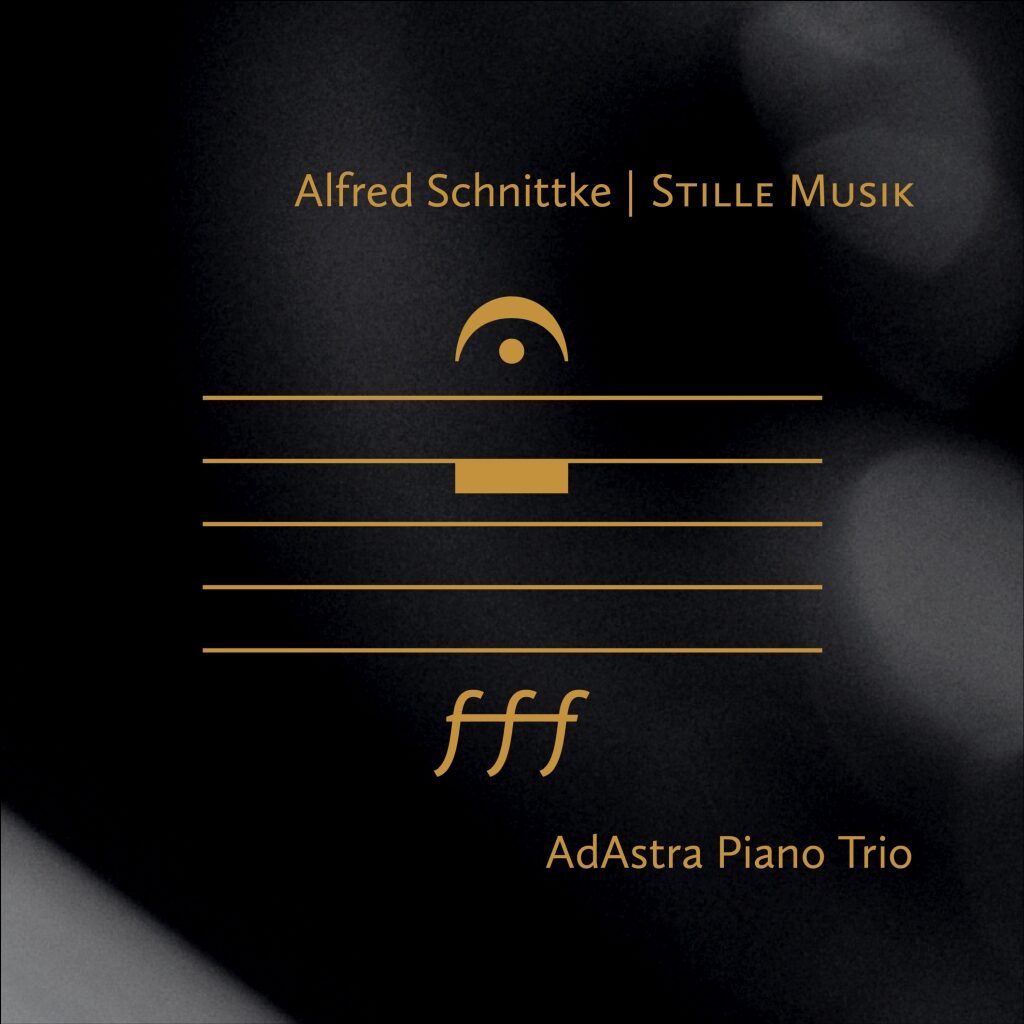 Alfred Schnittke | Stille Musik
ARTISTS:
AdAstra Piano Trio
Joanna Galon-Frant – piano
Anna Szabelka – violin
Łukasz Frant – cello
RELEASE DATE: 05/2021
CATALOGUE NO. ACD 278
GENRE: chamber music

DESCRIPTION
Alfred Schnittke – author of three operas, ten symphonies as well as numerous concert and chamber works – had a complex
and confusing identity. He was born in the Russian city of Engels to a mother descended from the Volga Germans (ethnic
Germans recruited by Catherine the Great to settle along the Volga River in the 18th century and later deported by Stalin in
1941) and a Frankfurt-born Jewish journalist of half Lithuanian descent.
Sonata for Cello and Piano No. 1 | 1978
Written for the remarkable Russian cellist Nathalia Gutman, the Sonata is one of Schnittke's most frequently recorded and
performed works. Much like the famous Concerto Grosso No. 1 (1977), the work is built on the idea of assembling different
musical fragments, as if they were shards of a broken mirror, and ultimately integrating them into a whole. This unifying process
is never fully accomplished though, leaving a scratch on the surface. Some sort of a doubt, an unspoken imperative to take the
next step can be sensed.
Stille Nacht | 1978
Composed as a holiday greeting for Gidon Kremer, Stille Nacht is a violin-and-piano paraphrase of Franz Xaver Gruber's familiar
Christmas carol. The atmosphere of Biedermeieresque idyll (the carol is a sentimental rendition of the siciliana, a Baroque
pastoral dance) is slowly entering the disenchanted reality of the 20th century: the C-sharp drone in the piano part (a devil's
interval away from the G major key), the use of bimodal (major/minor) chords, so distinctive in Schnittke's musical fabric, the
surreal string harmonics and the final glissando executed with the violin's G string tuned down by a quarter step (a technique
called scordatura) all lend an aura of eeriness to the piece.
Stille Musik | 1979
Stille Musik for violin and cello, dedicated to Russian musicologist Mikhail Druskin, is a study of tension and silence. The
"German logic" manifests itself in that the melodic sounds of the violin and the cello can be seen as mirror images of one
another. This, however, is not melodics in the traditional sense of the term: it is more of a chorale, extended in time and
embellished with an emphatic turn figure, which in its first appearance bears a striking resemblance to the finale of Mahler's
Symphony No. 9.
Musica nostalgica | 1992
This work is an example of musical "recycling" at its best. This pretenseless minuet-like musical moment appeared for the first
time in the soundtrack for Elem Klimow's Adventures of a Dentist (1965) and was later reworked into Suite in the Old Style for
violin and piano (1972), with its baroque character retained virtually intact. In the version for cello, dedicated to Mstislav
Rostropovich (for whom Schnittke also wrote two monumental works: Cello Concerto No. 2 [1990] and Cello Sonata No. 2
[1994]), the poetics of distance and peculiarity is applied on a much broader scale. Yet it is the all-pervasive nostalgic naivety
that dominates.
Piano Trio | 1992
The Trio is a reworking of Schnittke's String Trio (1985) commissioned by the Alban Berg Society of Vienna to commemorate the
centenary of the Austrian composer's birth and the 50th anniversary of his death. The work is quite a personal statement as
Schnittke had a particular fondness for Vienna. He spent the years 1946–48 living in the Austrian capital where his father
worked as a war correspondent until the demobilization of the Red Army. Ever since, the composer deeply cherished in his
memory the enchanting atmosphere of Vienna, its unique musical aura permeated with the spirit of Mozart and Schubert.
Schnittke also felt close affinity to Berg – they both employed various styles past and present, combining tradition with
modernity and quoting music of the bygone eras in their works. Interestingly, Schnittke dedicated the Trio to his physician – the
inscription reads, "To Alexander Potapov who saved my life twice."
Marcin Trzęsiok
TRACKLIST
LISTEN