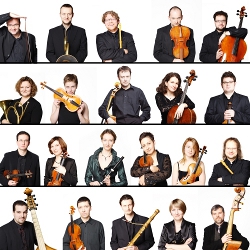 Wrocławska Orkiestra Barokowa
The Wrocław Baroque Orchestra was founded in 2006 by Andrzej Kosendiak, the managing director of the Wrocław Philharmonic and is the only ensemble in Poland to perform on period instruments. The orchestra's repertoire spans from the early Baroque to early Romanticism, from chamber pieces to great oratorio works. Each artistic season of the Wrocław Philharmonic features a series of the Orchestra's concerts, which enjoy great audience popularity.
Within a short period of time the orchestra reached a critically acclaimed artistic level that has generated invitations to international festivals (i.a. the Wratislavia Cantans Festival, the "Mozartiana" Festival, the Ludwig van Beethoven Easter Festival, RheinVokal Festival, Uckermarkische Musikwochen, Mazovia Goes Baroque, Poznań Baroque and Concentus Moraviae), radio broadcasts, recordings and appearances with leading Polish choirs. The ensemble also performs with renowned musicians of period music – guest performers have included Jaap ter Linden, Paul McCreesh, Peter Van Heyghen, Andreas Spering, Christian Curnyn, Simone Kermes, Olga Pasichnyk, Renata Pokupić, Nicholas Mulroy, Daniel Taylor, Barbara Maria Willi, Nico van der Meel, Cantus Cölln as well as the star of the Metropolitan Opera, Aleksandra Kurzak. Since its founding, the Orchestra's artistic director has been the cellist, Jarosław Thiel.
In January 2010 the Wrocław Baroque Orchestra recorded its debut album with the symphonies of Czech classic composers – Koželuch, Reicha and Vor?íšek (CD Accord), which met with critical acclaim as well as two nominations and the 2010 Fryderyk Award in the Phonographic Debut of the Year category. The ensemble's forthcoming recordings include Joseph Haydn's "Time of day" Symphonies and a premiere recording of Franz Xaver Richter's unpublished compositions under the baton of Andrzej Kosendiak.