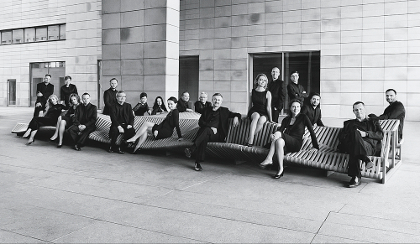 Wrocławscy Kameraliści -
Cantores Minores Wratislavienses
The Wrocław chamber choir Cantores Minores Wratislavienses was founded by Edmund Kajdasz in 1966. Under the current leadership of Piotr Karpeta (since 1991) it has been reduced to eighteen singers, in order to facilitate the performance of the early music according to present-day practices. The members of the choir also perform in smaller groups, from four to ten, collaborate with other Polish and foreign ensembles, and appear as soloists. The choir's repertoire includes over 1000 works spanning the Middle Ages to contemporary music. The ensemble has given over 2500 concerts, over 100 radio, television and disc recordings (over 40 LPs and CDs) and has taken part in numerous festivals, including 37 concerts at the Wratislavia Cantans festival. Its concert tours have included most European countries as well as Israel, Turkey, Georgia, Armenia, Azerbaijan and Mexico. The recording Musica Claromontana Vol. 21 with works by Józef Elsner won a nomination for the 'Fryderyk 2007' Award. In recent years the ensemble has performed among others at the Warsaw Autumn Festival, Gaude Mater, Musica Polonica Nova, Legnica Cantat, World Music Days, whilst also recording new CDs. Between 2014 and 2017 it will realise the Rudolphina project presenting the 17th century music collection of Prince Georg Rudolph.