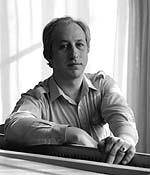 One of the greatest artistic individualities of our times; the last disciple of Ruggero Gerlin (1899-1983), the closest associate of Wanda Landowska. A graduate of the Warsaw Academy of Music and a recipient of numerous first prizes for interpretation, realization of basso continuo and performance of contemporary music in international harpsichord competitions (Paris 1981, Paris-Dijon 1983, Munich 1984 – ARD competition). He has performed in all European countries, meeting with enthusiastic reception and reviews. He works with many outstanding soloists and groups specializing in early music. After 1978 he was associated with the Polish Chamber Orchestra led by Jerzy Maksymiuk and the Sinfonia Varsovia. He co-founded the Concerto Avenna group and was its artistic director in 1984-1985. He has recorded over 100 hours of harpsichord music for broadcasting and music companies. He directed the first Polish production of all stage plays by Monteverdi at the Warsaw Chamber Opera (1993-96).
Since 1987 he has been teaching harpsichord and baroque music interpretation at the Hochschule für Music and Darstellende Kunst in Graz (Austria).
Wladyslaw Klosiewicz has a rich virtuoso technique strictly subordinated to musical expression. The artist feels at ease with very strong emotions in music. A very talented improviser with a thorough knowledge of Baroque, he is an unrivalled performer of works by Louis Couperin or Johann Jakob Froberger, which demand an active approach to the music content sketched by the author. The artist's realizations of continuo parts are marked by great imaginativeness and stylistic authenticity. Among his recordings it is worth mentioning the collection of complete harpsichord compositions of Francois Couperin, the complete partitas of Bach and the works of Johann Jakob Froberger.