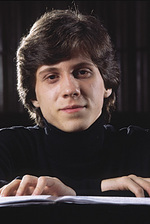 Born on June 30th, 1985 in Nakło nad Notecią, Poland. In October 2005 he unanimously won the 15th International Frederic Chopin Piano Competition in Warsaw (second prize has not been granted). He also won three special prizes: the Polish Radio award for the best performance of the mazurkas, the Polish Chopin Society award for the best performance of the polonaise and the Warsaw Philharmonic award for the best performance of the concerto. He is also the winner of the best sonata performance award founded by Krystian Zimerman.

He began his piano tuition at the age of five and in May 2007 he graduated from the Feliks Nowowiejski Music Academy in Bydgoszcz with professor Katarzyna Popowa-Zydron.
The artist has already won many awards and prizes at the international piano competitions worldwide. Among them were:
the Second Prize

at the Artur Rubinstein Young Pianist Competition in Bydgoszcz (2002).  

the Second Prize

at the 5th International Young Pianist Competition in Hamamatsu, Japan (2003). He got the prize together with Alexander Kobrin since the first prize was not granted.  

the First Prize

at the 4th International Piano Competition in Morocco (2004).  

the first Prize

and all non-statutory distinctions for the best mazurkas, polonaise and concerto performance at the 15th Frederic Chopin Piano Competition in Warsaw (2005).      
The Golden Medal at the Chopin Competition opened the door for him to the most prestigeous concert halls all over the world. The pianist was invited to perform at the Warsaw Philharmony Hall (March 2006), the Tchaikovsky Hall of the Moscow Conservatory with the Mariinsky Orchestra under Valery Gergiev (May 2006), Tonhalle in Zurich (September 2006), 12 recitals in major concert halls in Japan including Tokyo Opera City (November 2006), Concertgebouw in Amsterdam (December 2006), Herkules Saal in Munich (March 2007), Wigmore Hall in London (April 2007), Auditorio Nacional in Madrid (May 2007), re-invitation performances in Japan, including Suntory Hall in Tokyo (May-June 2007), Palais des Beaux Arts in Brussels (September 2007). The latest artist\'s performances at the Summer festivals: Ruhr, Verbier and La Roque d\'Antheron (July-August 2006) were enthusiastically received by the critics. Rafal Blechacz's calendar is now fully booked 2 years in advance and includes performances at the major cultural centers of Europe, the North America and the Far East.

On May 29th,2006 the arist signed an exclusive contract with Deutsche Grammophon.