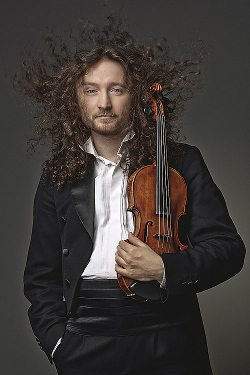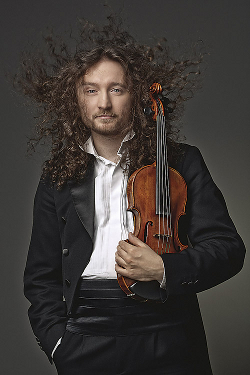 First Concertmaster of the Wrocław Philharmonic Orchestra, he graduated with distinction from Poznań's Jan Ignacy Paderewski Music Academy where he studied violin with Bartosz Bryła and from Warsaw's Fryderyk Chopin Academy of Music (presently University of Music) where he studied with Iwona Wojciechowska. He perfected his skills at master and chamber classes with among others Wanda Wiłkomirska, Wolfgang Marschner, Charles Treger, Petru Munteanu as well as members of the Trio Fontenay and Camerata Quartet. He is the recipient of prizes from
national and international competitions as well as scholarships from the "Amadeus" Foundation and Ewa Czeszejko-Sochacka's "Promotion of Talent" Foundation.
Between 1999–2004 he was a member of the Amadeus Polish Radio Chamber Orchestra and between 2005–2006 was concertmaster of the Poznań Philharmonic Orchestra. He performs as concertmaster, soloist and chamber player both at home and abroad. In 2006 and 2007 as concertmaster and conductor he led the international festival orchestra of Roussas (France). As concertmaster of the Wrocław Philharmonic Orchestra he has participated in numerous CD and archive recordings, including the "Fryderyk Prize" awarded recording of Witold Lutosławski's Symphonies 2 & 4 (conducted by Jacek Kaspszyk). Together with the Lutosławski Quartet Wrocław he recorded the CD Witold Lutosławski Opera Omnia 01. Chamber music (CD Accord), which was nominated for the Fryderyk 2009 and the Wrocław Music Award. In 2011 he was invited as guest concertmaster to participate in the premiere of Tosca at the Teatro Municipal in Santiago (Chile) and in the Don Giovanni project – performed during the Haydn Festival in Eisenstadt (Austria) that included a live DVD recording of the event.
A promoter and lover of chamber music he collaborates among others with such artists as Agata Szymczewska, Ryszard Groblewski, Tomasz Strahl, Marcin Sikorski and Marcin Zdunik. He is also the co-founder and member of the "Odranocka" Foundation committed to the organization of cultural events in Wrocław and Lower Silesia.