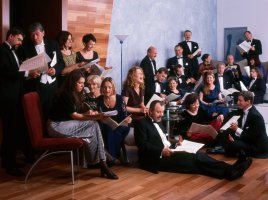 More than 25 years after its foundation by Ireneusz Łukaszewski Polski Chór Kameralny (The Polish Chamber choir – also known as Schola Cantorum Gedanensis- ) is very well accepted, indeed, both internationally and at home. It retains a firm place in the narrow global elite of fully professional chamber choirs. Nowadays, Polski Chór Kameralny sings about 80 concerts a year preparing c. 50 different programmes annually. Its declared aim is to work at an instrumental, "orchestral" level which, apart from other skills, requires total control of the vocal instrument, thus allowing all musical and technical demands of a score to be met.
The main interest of the 24 professional musicians making up the ensemble lies on unaccompanied music, and especially on romanticism and contemporary music. Hence the countless compositions dedicated to the choir and that wealth of world premiere performances (for years they have been singing on average one premiere performance every two to three weeks). Nevertheless, Polski Chór Kameralny also sings oratorios and even opera and co-operates with many of the most important philharmonic orchestras in Poland, as well as with Sinfonia Varsovia, the Polish Chamber Philharmonic, the Polish Radio chamber orchestra Amadeus [Poznań], the ancient music ensemble Sans Souci [Berlin], the baroque orchestra Batzdorfer Hofkapelle [Dresden], the Neue Düsseldorfer Hofmusik…
"We specialize in diversity!" Notwithstanding all that serious work, The Polish Chamber Choir enjoys experiments. Not to get in a musical rut! They entertain with light music, sing real jazz, chanson, Gregorian chant, New Age …. Cross-Over is nothing new to them. In 2001, they even participated in the world's first genuine real-time internet concert. Polski Chór Kameralny co-operates with guest conductors from all over the globe, amongst them for many years now Uwe Gronostay and Eric Ericson, for 2005 Frieder Bernius has been invited.
The Polish Chamber Choir frequently appears at international festivals, among them the "Warsaw Autumn" and "Vratislavia cantans", the Ruhr-Festival, the "rendez-vous musique nouvelle", but also Salzburg, Dresden, Berlin and Tokyo. Its concert tours take it through all of Europe, to the USA and to Japan. In the role of "Official Symposium Choir" it was invited to the Rotterdam "World Symposium on Choral Music".
Besides about 30 CDs, MCs and videos The Polish Chamber Choir has recorded dozens of hours of music for Polskie Radio S.A. in Warsaw. Having been nominated for gramophone prizes annually since 1999 Polski Chór Kameralny, in 2004, at last, it received two "Fryderyk" awards at once for a double CD with Sinfonia Varsovia of works by Górecki [BeARTon ] ). In 2005, so far, the Polish Chamber Choir has collected 3 nominations (award decisions as yet still open). It has also recorded extensively for Polish Television (including a complete recording of Palestrina's 68 offertorios). On an international level, it has recorded for Dutch Radio, for Bayrischer Rundfunk, Hessischer Rundfunk, Südwestrundfunk, Sender Freies Berlin, Westdeutscher Rundfunk, and DeutschlandRadio Berlin as well as for ZDF (2nd German public TV channel). In December 2003 Polski Chór Kameralny provided Poland's contribution to the EBU's Christmas Concert which was broadcast live throughout Europe and in Canada. In October 2004 it participated in the world premier recording of Siegfried Wagner's opera "Der Heidenkönig" (Naxos – to be released in 2005).