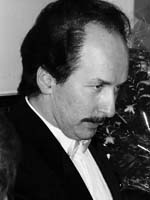 One of the most outstanding Polish oratorio singers. He started to play the piano aged four under the guidance of his mother. He studied piano with Zbigniew Śliwiński and singing (honours degree) with Prof. Jerzy Szymański at the Gdansk Musical Academy. In 1978 he received the first prize and two distinctions in the 13th International Dvořák Vocal Competition in Karlove Vary.
The artist appears in concerts and operas both in Poland and abroad. He has sung at all Polish philharmonic halls, the Grand Theatre in Warsaw and Łódź, the operas of Cracow and Wrocław, the Baltic Opera, the Alte Oper in Frankfurt, the Théâtre des Champs-Élysées, the Philharmonics of Berlin, Munich, Cologne, the Palais des Beaux Arts in Brussels, the Royal Festival Hall in London, the Carnegie Hall, the Gewandhaus in Leipzig, the Musikverein in Vienna, as well as at concert halls in Montreal, Milan, Stockholm, Moscow, Jerusalem, Seoul and Guadeloupe. He has collaborated with such prominent conductors as Leonard Bernstein, Charles Dutoit, Daniele Gatti, Adrian Leaper, Kazimierz Kord, Jerzy Katlewicz, Antoni Wit, Tomasz Bugaj, Jacek Kaspszyk, Stefan Stuligrosz, Krzysztof Penderecki. His repertory includes over 90 oratorio works, operas by Haendel and Monteverdi, as well as song cycles.
Piotr Kusiewicz is much sought after for his interpretations of contemporary music. He performs works by Krzysztof Penderecki, Witold Lutosławski, Krzysztof Baculewski, Edward Pałłasz, Juliusz Łuciuk, Paweł Łukaszewski and Zbigniew Preisner. Composers often trust him to premiere their works and he sings at festivals, including the Warsaw Autumn, the Gaude Mater (Częstochowa) and the Krzysztof Penderecki Festival. The artist collaborates with early music ensembles and the Warsaw Chamber Orchestra. An important point in his career was a role in Szymanowski's King Roger under Charles Dutoit in Paris, Montreal and Carnegie Hall in 1996–99.
Piotr Kusiewicz is head of the Vocal Department at the Gdańsk Musical Academy (where he teaches singing). He also teaches solo singing at the Musical Academy in Bydgoszcz. He is one of the few Polish singers who run courses in the interpretation of Baroque music.