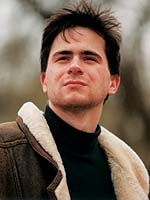 The pianist, of Polish-Hungarian origin, was born in 1969 and started his musical education at the age of six. He studied at the Lyon and Strasbourg Conservatoires, the University of South California and the Warsaw Academy of Music.
During his debut recital at the Wigmore Hall in London in 1991 he played Beethoven's Diabelli Variations and Bagatelles op. 126. The enthusiastic reception by the audience and critics launched his international career.
"A deeply moving sensation… The audience was just stunned", wrote Adrian Jack in The Independent. Since that time Anderszewski has participated in numerous recital series, such as the Ravinia Rising Stars Series, the BBC Pebble Mill Celebrity Recital Series and the International Piano Series at the Queen Elizabeth Hall in London. He has performed at festivals in Cheltenham, Harrogate and Edinburgh. In 1998 he gave recitals in London (Wigmore Hall), Paris (Radio France) and New York (Frick Collection), as well as at festivals in Bergen (Norway), Bath and Cheltenham (Britain). Anderszewski has played with the London Philharmonic Orchestra, the London Symphony Philharmonia, the City of Birmingham Symphony, the Munich Philharmonic, the North Holland Symphony and the National Philharmonic in Warsaw. He has worked with such conductors as Rafael Frühbeck de Burgos, Gerd Albrecht, En Shao, Markus Stenz, Stanislaw Skrowaczewski, Claus Peter Flor. He is planning to collaborate with the Rotterdam Philharmonic (conducted by Claus Peter Flor), the Lahti Symphony (conducted by Markus Stenz), the Bamberg Symphony and the New Zealand Symphony (conducted by Casadesus), the Orchestre National de Lyon (conducted by Emmanuel Krivine).
Anderszewski's first solo album published by CD Accord in 1996 featured music by Bach, Beethoven and Webern. The album won a Fryderyk award from Polish phonographic industry and had enthusiastic reviews in the BBC Music Magazine, Le Monde de la Musique, Ruch Muzyczny and Magazyn STUDIO. In summer 1998 Anderszewski recorded an album with Bach music for Harmonia Mundi.
Anderszewski is a keen performer of music by Bach, Beethoven, Bartok or Webern – music precise in form. "His performances of the most complicated pieces by Bach or Beethoven are very convincing… He is still a young pianist, but he is likely to join the greatest soon" (BBC Music Magazine).