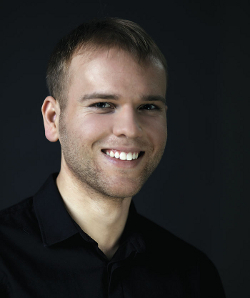 After completing his music school education with Ewa Skarżewska in Toruń (from 1995) and piano studies with Katarzyna Popowa-Zydroń at the Feliks Nowowiejski Academy of Music in Bydgoszcz, Paweł Wakarecy graduated with honours in 2011 and became an assistant lecturer on the faculty of his alma mater. He developed his abilities at master classes taught by e.g. Bernard Ringeissen, Ewa Pobłocka, Jacques Rouvier, Dang Thai Son, Mikhail Voskresensky and Nelson Goerner.
The pianist took part in national and international piano competitions for children and youth, including the All-Polish Piano Tournament in Żagań (2nd prize, 1996), the Johann Sebastian Bach Competition in Gorzów Wielkopolski (3rd prize, 1998), the All-Polish Piano Competition in Konin (2nd prize, 2002), and the EPTA Competition in Cracow (3rd prize, 2003). He received special awards in the International Ignacy Jan Paderewski Piano Competition in Bydgoszcz (2007) and was a finalist of the International Fryderyk Chopin Competition in Darmstadt (2009). In the 16th International Fryderyk Chopin Piano Competition in Warsaw (2010), he was awarded a distinction and a special award "for the most highly assessed Polish participant".
As part of the Chopin Year celebrations in 2010, Paweł Wakarecy gave more than 50 concerts in Poland as well as abroad in Germany, Sweden, Russia, Bulgaria, France, Switzerland, Belgium, Italy, Great Britain, China and Japan. In 2012 he toured Ukraine with the 'Amadeus' Chamber Orchestra of the Polish Radio and gave a recital in Moscow. The artist has played with such ensembles as: Toruń Symphony Orchestra, Warsaw Philharmonic Symphony Orchestra, the Polish Radio Orchestra, the Polish National Radio Symphony Orchestra in Katowice, Sinfonia Iuventus Polish Orchestra, the Polish Philharmonic Sinfonia Baltica, the majority of philharmonic orchestras in Poland, ensemble Multicamerata, as well as the Russian Chamber Orchestra in St Petersburg and the Lithuanian Chamber Orchestra, under the baton of Agnieszka Duczmal, Antoni Wit, Łukasz Borowicz, Zygmunt Rychert, Jerzy Salwarowski, Czesław Grabowski, Piotr Sułkowski, Piotr Wajrak, Wojciech Rodek, Tadeusz Wojciechowski, Piotr Borkowski and Mitsuioshi Oikawa.
The artist has received scholarships from the Polish Children's Fund (2003–2005), the Polish Prime Minister (2004, 2005), the Marshal of the Kuyavian-Pomeranian Voivodeship (2007, 2010, 2011) and the President of the City of Toruń (2004, 2005, 2007, 2008, 2010). In 2012 the Minister of Culture and National Heritage presented him with a grant from the 9th "Young Poland" Scholarship Programme, which he used to purchase a grand piano.
The English music critic John Allison wrote in his commentary to the CD released by the Fryderyk Chopin Institute in 2011, containing selected performances from the most recent Chopin Competition in Warsaw: "As the only Polish finalist in the 16th International Fryderyk Chopin Piano Competition, Paweł Wakarecy […] had shown himself to be one of the outstanding pianists. The Toruń-born player certainly showed natural, instinctive feeling for nearly every­thing he tackled, often capturing that subtle, nostalgic quality that Poles call 'żal'. But if his Polish genes showed through, he never appeared to take anything in the music for granted, and most of his interpretations were the result of a searching, individual musical mind. Above all, Wakarecy's playing convinced for the depth of his touch, which showed a very physical connection to the instrument."