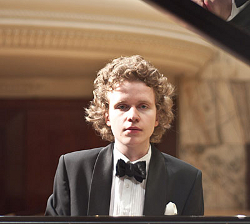 Born in 1992 in Blagoveshchensk, the administrative centre of Amur Oblast in the Russian Far East, he is one of the most promising pianists of his generation. In 1999-2010 he studied in the Pyotr Tchaikovsky Conservatory's Central School of Music in Moscow. From 2005 he developed his abilities with the eminent pianist Mikhail Voskresensky, and became his student in the Pyotr Tchaikovsky Conservatory in 2010.

Nikolay Khozyainov is the winner of numerous awards in international piano competitions, including the 1st prize and special award for the best performance of Felix Mendelssohn's Rondo capriccioso in E major Op. 14 in the International Piano Competition "Virtuosi per musica di pianoforte" in the Czech Republic (2003), 1st prize in the 9th International Carl Filtsch Piano Competition in Romania (2004), 1st prize in the International Alexander Scriabin Piano Competition in Paris (2008), 2nd prize and special award for the best performance of a musical miniature in the 6th International Frederic Chopin Competition for Young Pianists in Moscow (2008).

The artist was also the youngest finalist of the 16th International Frederic Chopin Piano Competition in Warsaw (2010). His interpretations of Chopin and his unique musicality made an enormous impression on the audience and music lovers, and were appreciated by critics, from whom he garnered excellent reviews. Directly after the competition, the pianist gave recitals in Żelazowa Wola and in the Frederic Chopin Museum in Warsaw.

He has given performances in prestigious venues in Russia, Germany, Poland, the Czech Republic, Hungary, the United States, Japan and South Africa.