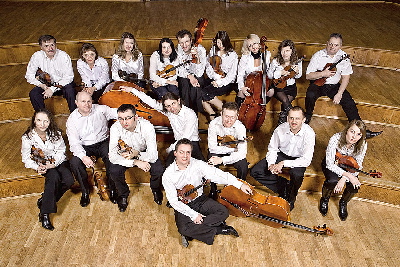 NFM Orkiestra
LEOPOLDINUM
Wrocław Chamber Orchestra LEOPOLDINUM was formed in 1978. The ensemble's name refers to the name of one of the most precious monuments of Central Europe's Baroque architecture: the Aula Leopoldina at Wrocław University, famed for its excellent acoustics.
The Orchestra's first concert was given in April 1979 under the direction of Tadeusz Strugała, one of the orchestra's initiators. Karol Teutsch, the eminent conductor and doyen of Polish chamber musicians, was for many years the artistic director of the Orchestra and creator of its unique style. In 1993-95 this position was held by the violinist Jan Stanienda. For over 20 years, the Orchestra's everyday work has been supervised by its concertmaster – Zbigniew Szufłat. Since January 2007 the post of artistic director of the LEOPOLDINUM has been occupied by the well known violinist, conductor and chamber musician from Vienna, Ernst Kovacic, specializing in first performances of new music.
LEOPOLDINUM, an ensemble of outstanding musicianship, has earned widespread critical and popular acclaim at concerts and festivals both in Poland and abroad, appearing in venues such as the Philhar­ monie and Schauspielhaus in Berlin, Tivolis Koncertsal in Copenhagen, Teatro Victoria Eugenia in San Sebástian; as well as festivals: Tivoli in Denmark, St. Gallen in Austria, Flanders Festival in Belgium, Muziekfestival West-Brabant in Holland, Bodenseefestival and Weilburger Schlosskonzerte in Germany, Echternach Festival in Luxembourg, Périgord Noir in France, Estoril in Portugal, and at major festivals in Poland: The Warsaw Autumn, Wratislavia Cantans and Musica Polonica Nova. Thanks to the Warsaw-based Adam Mickiewicz Institute, which coordinated many European cultural projects, LEOPOLDINUM represented Poland during the following events: in 2001 – Europalia in Belgium, in 2004 – The Polish Year in France, in 2005 – The Polish-German Year in Germany, and at Poland 2006 in Trondheim in Norway. In October 2007 LEOPOLDINUM represented Poland at the Europalia.Europa Festival in Belgium.
Among the Orchestra's more than a dozen CD releases, there is Rossini Gala with Ewa Podleś (contralto) and the conductor Wojciech Michniewski, which received the Polish Phonographic Academy Award Fryderyk 1999 (DUX 0124).
The Orchestra LEOPOLDINUM is part of the Witold Lutosławski National Forum of Music in Wrocław.