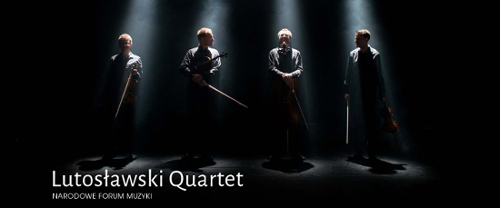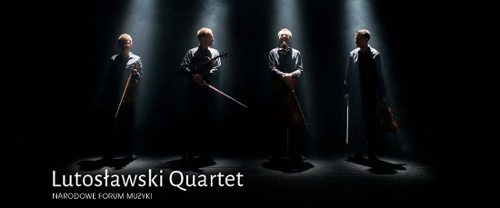 Named after the great 20th century Polish composer Witold Lutosławski, the ensemble was founded in 2007 and is now one of the leading Polish string quartets.
The Lutosławski Quartet has quickly established itself on Polish and international classical music scene, appearing at numerous prestigious festivals: Warsaw Autumn, Wratislavia Cantans, Klarafestival in Brussels, Ankara Music Festival in Turkey, Hong Kong Arts Festival, Tongyegong International Music Festival in South Korea, World Music Days, and Jazztopad. The Lutosławski Quartet has performed in the following concert halls: Kioi Hall in Tokyo, YST Conservatory of Music in Singapore, Hangzhou Theatre, Forbidden City Concert Hall in Beijing, Megaron in Athens, Konzerthaus in Berlin, Bozar and La Monnaie, as well as at SESC in São Paulo, Warsaw Philharmonic, and the Witold Lutosławski Concert Studio of the Polish Radio in Warsaw.
The Lutosławski Quartet has enjoyed collaborations with Garrick Ohlsson, Piotr Anderszewski, Kevin Kenner, Bruno Canino, Michel Lethiec, Tomoko Akasaka, Eugen Indjic, Ryszard Groblewski, Andrzej Bauer, and with outstanding jazz musicians: Kenny Wheeler, John Taylor, Uri Caine, and Benoît Delbecq. The ensemble has cooperated with IRCAM in Paris.
The Lutosławski Quartet's CDs were published by CD Accord, NFM, Naxos, and DUX. The Lutosławski Quartet performs mainly music of the 20th and 21st centuries, with a focus on Polish music, including works by Witold Lutosławski, Karol Szymanowski, Paweł Mykietyn, and Marcin Markowicz – the quartet's 2nd violinist.
The Lutosławski Quartet is a resident ensemble of the National Forum of Music in Wrocław.