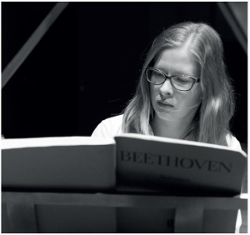 She graduated from the F. Chopin Music Academy in Warsaw, Conservatorium van Amsterdam, and Hochschule für Musik Freiburg. Her teachers were, among others, Stanley Hoogland and Robert Hill. In 2007 she received an award at the "Musica Antiqua" Competition in Bruges.
Katarzyna Drogosz specializes in playing historical instruments, and the construction and history of the piano are of particular interest to her. Giving concerts in Poland and internationally, she also collaborates with the Wrocław Baroque Orchestra and Capella Cracoviensis. She has appeared at such festivals, as Kręgi Sztuki [Arts Circles] in Cieszyn, the Bach Festival in Świdnica, Anima Musica in Gdynia, and the Mozart Festival in Warsaw.
With the flautist Annie Laflamme and the cellist Dorothea Schönwiese she plays in the Laflamme Trio, and their appearances together include Mozartfest in Würzburg, Forum Alte Musik in Cologne, and Tage Alter Musik in Herne. Katarzyna has recorded a CD for the German label Querstand with the trombonist Ercole Nisini.
Since 2010 she has taught harpsichord as a junior lecturer in Marek Toporowski's class at the K. Szymanowski Music Academy in Katowice. Since 2013 she has also taught at Kraków Music Academy. Katarzyna Drogosz is a co-founder of Fortepianarium ? the Silesian Centre for Keyboard Instruments Conservation and Heritage in Zabrze.