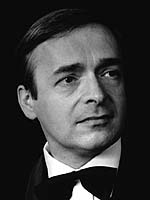 Born in Warsaw in 1950, he graduated from the Warsaw Polytechnic in 1973 and four years later he finished a high school of music (with distinction) in the class of Eugenia Szaniawska. He took singing lessons from Mieczyslaw Solecki and Stanislawa Zawadzka. He graduated with honours from the Krakow Academy of Music (vocal studies with Helena Lazarska). Since 1981 he has been closely associated with the National Philharmonic, where he has worked with several conductors (Kazimierz Kord, Jan Krenz, Krzysztof Penderecki, Jerzy Semkow, Witold Rowicki, Stanislaw Wislocki, Jerzy Salwarowski and others). He has taken part in many music festivals (e.g. Wratislavia Cantans, the Warsaw Autumn Contemporary Music Festival, the Berliner Festwochen, the Festival of European Music in Berlin, the Festival of Oratorio Music Monreale/Palermo). He has made many recordings for radio (including archival recordings of all songs by Paderewski). His repertoire includes several opera parts (mostly Mozart), over 100 oratorio parts (including both Bach Passions) and about 300 songs. He has given concerts in almost all European countries and in Japan. Since 1982 he has been associated with the Krakow Opera, and since 1986 he has been a soloist with the Warsaw Chamber Orchestra.
In 1983 Jerzy Knetig won an Austrian government scholarship to the Superior School of Music in Vienna. During his 12-month stay he improved his vocal skills with Kurt Equiluz and gave concerts in Vienna and Salzburg.
In 1984 he was invited to take part in the world premiere of the opera Un Re in Ascolto by Berio, directed by Lorin Maazel. In September 1984 the opera was staged in the Staatsoper in Vienna and in 1986 the singer sang his role three times at La Scala. In 1987 Jerzy Knetig took part in the Carintischer Sommer Festival in Villach, Austria (Bastien and Bastienne, The Magic Flute by Mozart) and again in La Scala (Passion by Paisiello; CD recording). In 1989-90 he performed at the Paris Opera-Comique, at the Berlin and Tokyo Philharmonics and with the Concertgebouw Orchestra in the Netherlands. Since 1991 the singer has taken part in six successive Mozart festivals organized annually by the Warsaw Chamber Opera and in the Baroque Opera Festival. He appeared again at the Carinthischer Sommer festival in 1993 in the title role of Mozart's Idomeneo, and two years later at the same festival in Mozart's Zaide. In 1991 he started teaching at the Warsaw Academy of Music. In 1994 he took part in the first Polish CD recording of Beethoven's 9th Symphony (with the National Philharmonic under Kazimierz Kord). In 1996 he sang again with the Berlin Philharmonic. For six years he has been a regular participant of the Mozart festival in Madrid. In 1996 he sang in Mahler's 8th Symphony at the National Theatre in Warsaw.