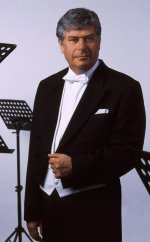 Jan Łukaszewski has come to be accepted as one of Europe's most accomplished choral music specialists. He is conductor, artistic director and director general of Polski Chór Kameralny –also known as Schola Cantorum Gedanensis-. Much in demand as a guest conductor, he e.g. regularly works with the Polish Radio Choir Cracow as well as guest conducting abroad. His main artistic interests lie in the fields of romantic and of contemporary music, and, especially in connection with The Polish Chamber Choir he has gained a reputation of being able to make possible the impossible and in a very short time, indeed, prepare musically valid interpretations of even the most complex of works. Hence the number of premier performances directed by him is vast.
Refining the basic ideas of his father Leon and his elder brother Ireneusz, he developed a distinctive choral sound. Its "instrumentality", flexibility, and great diversity of colours never fail to impress critics all over the world. The Polish Chamber Choir, of which for some years he had been assistant director, he took over in 1983. Nowadays he also teaches a postgraduate conducting course at Bydgoszcz Academy of Music and is invited worldwide to hold master classes and seminars for choral conductors (in Japan, for example [Tokyo/Nagano] or as a lecturer at the "World Symposium on Choral Music" in Rotterdam). Taking an educational interest in amateur singing, he frequently works in the juries of internationally renowned choral contests, among others in Japan [Takarazuka], Wales, Lithuania, Italy, and in Switzerland.
In Poland, Jan Łukaszewski is regarded as one of the few that propagate the music of such composers as Schönberg, Messiaen, Xenakis, Globokar, Castiglioni, Takemitsu, R. Strauss, Pepping, Tippett, Ives, and Barber. His recordings for Polish Radio, Dutch Radio, Sender Freies Berlin, Bayrischer Rundfunk, Südwestrundfunk, and Westdeutscher Rundfunk and for Polish and German Television as well as his numerous CD-, MC-, LP- and video recordings reflect the quality of his work. The high artistic level of Polski Chór Kameralny under his direction time and again inspires composers to write works for unaccompanied choir.