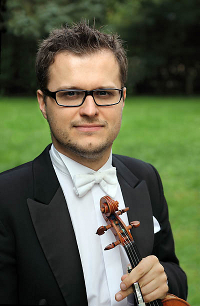 Born in 1980 in Poznań, he graduated with a distinction from the Ignacy Jan Paderewski Academy of Music in Poznań after studies with Jadwiga Kaliszewska (2003). He developed his abilities with Charles Treger, Manfred Scherzer, Marina Jashvili, Krzysztof Węgrzyn, Wanda Wiłkomirska, Toru Yasunaga and Alessandro Cappone. He obtained scholarships from the City Council of Poznań (2001) and the Ministry of Culture and National Heritage (2000–2003); he was also awarded in the 6th "Young Poland" Scholarship Programme in 2009. Since September 2003, Jakub Haufa has been on the faculty of his Alma Mater in Poznań, where in May 2008 he was granted a doctoral degree.
Jakub Haufa has won numerous awards and distinctions in national and international violin competitions, including: the 2nd prize in the National Stanisław Serwaczyński Competition for Young Violinists in Lublin (1999), the 2nd prize in the 6th National Zdzisław Jahnke Competition for Violinists in Poznań (1999), and an honourable mention in the 12th International Henryk Wieniawski Violin Competition in Poznań (2001).
As a soloist, he has performed with such eminent artists as: Krzysztof Penderecki, Jacek Kaspszyk, Jerzy Maksymiuk, Jan Krenz, Grzegorz Nowak, Jean-Jacques Kantorow, Marc Minkowski, Nigel Kennedy, Albrecht Mayer, Gábor Boldoczki, Michael Nyman (music for the film Jestem – I Am) and Jarosław Śmietana, in such famous concert halls as e.g. the Suntory Hall in Tokyo, philharmonic halls in Berlin, Munich and Cologne, Leipzig Gewandhaus, the Alte Oper in Frankfurt, the Tonhalle in Düsseldorf, Théâtre des Champs-Elysées and Théâtre du Châtelet in Paris, the Concertgebouw in Amsterdam, the Konzerthaus in Vienna, the Tonhalle in Zurich, Auditorio Nacional de Música in Madrid and Berwaldhallen in Stockholm. He has appeared as a soloist at such festivals as La Folle Journée, La Roque d'Anthéron and the Baltic Sea Festival.
Since 2003, Jakub Haufa has been the principal concert master of the Sinfonia Varsovia orchestra, with which he has toured throughout the world and recorded extensively for the radio, television and record companies. He has frequently led the Polish Chamber Orchestra – Sinfonia Varsovia from the concert master's chair during concerts and recording sessions which featured such musicians as Nigel Kennedy, Vadim Repin, Albrecht Mayer, Sir James Galway, Gábor Boldoczki, Sergey Nakariakov, Boris Berezovsky and Ryu Goto.
In 2006, EMI released the DVD Live at the Citadelle, containing the Polish Chamber Orchestra's concert at Carcassonne in France with Jakub Haufa and Nigel Kennedy as soloists in Antonio Vivaldi's Concerto in C major for two violins. The concert was also frequently broadcast on TV by MEZZO. In August 2006, Deutsche Grammophon brought out the solo album New Seasons by the oboist Albrecht Mayer (followed in 2007 by a DVD), on which Jakub Haufa features as the concert master and a soloist.
The artist plays an early 19th-century violin built by Nicolas Lupot and an instrument specially built for him by Stephan von Baehr (Paris, 2010). The bow was also specially made and dedicated to him by Benoît Rolland (Boston, 2010).