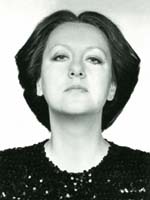 One of the most distinguished Polish singers, she studied Slavonic languages at the University of Warsaw, and vocal studies with Zofia Brégy, continuing her education at Wrocław's Music Academy under Jerzy Artysz. She won 1st Prize at the International Bach Competition in Leipzig and received the Gold Medal at the Young Soloists Festival in Bordeaux.
Jadwiga Rappé specializes in the performance of oratorio and cantata music of various eras – from the Baroque to the contemporary. Her rich song repertoire allows her to create several stylistically varied recital programmes. She performs all Mahler works written for alto voice and has participated in premieres of such monumental works as Penderecki's Seven Gates of Jerusalem under the direction of Lorin Maazel in Jerusalem (1997) and Kilar's Missa pro pace under the baton of Kazimierz Kord at the Warsaw Philharmonic. In March 2008 she took part in the premiere of Sinfonietta No. 3 "Gong" by Ladislav Kubik, the Czech composer resident in USA. Her repertoire also includes alto parts from operas by Gluck, Handel, Ponchielli, Verdi and R. Strauss. She won enormous success as the goddess Erda in Wagner's Ring Cycle, a role she created during premiere productions among others for Berlin's Deutsche Oper, London's Covent Garden, Brussels' Royal Opera and Vienna's Staatsoper. She has also recorded this part for EMI under the direction of Bernard Haitink.
She performs in the most renowned concert halls of Europe, North America and Asia and has collaborated with such conductors as Riccardo Chailly, Sir Colin Davies, Nikolaus Harnoncourt, Armin Jordan, Marek Janowski, Kent Nagano, Krzysztof Penderecki and
Antoni Wit. She participates in many renowned festivals including the Salzburger Festspiele, Brucknerfest Linz, Wien Modern, Musiksommer Leipzig, Warsaw Autumn and Wratislavia Cantans.
Jadwiga Rappé's discography includes 48 CDs recorded for such companies as Teldec, Erato, Denon Classics, Orfeo, Philips, Decca, Chandos, CD Accord, Naxos and DUX. Seven recordings released in Poland have won the "Fryderyk" award. Penderecki's Polish Requiem recorded for Naxos in which she participated was nominated for a Grammy award in 2005. In 2011 the CD Stanisław Moniuszko – Songs (recorded with Maja Nosowska) was awarded the French Orphée d'Or by the Académie du Disque Lyrique and received glowing reviews throughout the world.
Jadwiga Rappé is Professor at Warsaw's Fryderyk Chopin University of Music and also gives numerous master-classes. She is often invited to jury panels of vocal competitions and between 2006–2009 was president of the Witold Lutosławski Society.