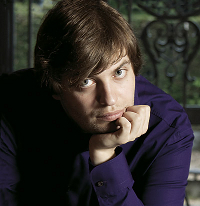 "A sensitive poet of sound"; "the pianist's way of playing may be regarded as akin to the old performance traditions of Friedman or Paderewski rather than leaning towards the contemporary, very often too disciplined and unerringly standardized, performance concepts"; "the artist captivates with the way he accurately reads the lyricism comprised in music and reaches for virtuoso skills only when needed" – this is how the Polish, German and American music press writes about Hubert Rutkowski.
The recording of piano works by Julian Fontana, Fryderyk Chopin's friend and pupil, as well as piano pieces by Theodor Leschetizky for Acte Préalable (2007, 2008) was a significant moment in Hubert Rutkowski's career. In the Chopin Year 2010, he recorded for NAXOS a CD entitled Pupils of Chopin with piano works composed by Chopin's disciples. Since then, he has been giving performances in numerous countries in Europe, Asia, Latin American and the USA. He performed at the Schleswig-Holstein Music Festival, the "Rarities of Piano Music" Festival in Husum Castle in Germany, the Polish Piano Festival in Słupsk and at the Artur Rubinstein Piano Festival in Łódź, Poland.
Hubert Rutkowski has won prizes in many international and national piano competitions, including the Grand Prix of the Chopin Competition in Hannover (2007); the distinction "Medalla per Unanimitat" in the 52nd International Maria Canals Music Competition in Barcelona (2006); the 1st prize in the Polish National Fryderyk Chopin Piano Competition in Warsaw (2000); and the 3rd prize in the International Fryderyk Chopin Piano Competition in Vilnius (1999).
Following his graduation from the Fryderyk Chopin Academy of Music in Warsaw, Hubert Rutkowski completed doctoral studies in his alma mater. Afterwards, he set off for the Hochschule für Musik und Theater in Hamburg, where he completed postgraduate studies for piano masters. Since April 2010, he has served at the Hochschule für Musik und Theater in Hamburg as one of the youngest professors at that university. Since November 2011, he has also taught a piano class at the Hochschule für Künste in Bremen.