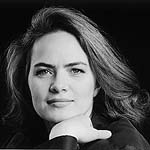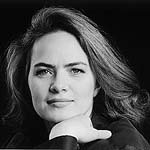 Ewa Pobłocka is one of the Polish most distinguished pianists. She studied at the Music Academy in Gdansk, and is the holder of top awards from piano competitions in Vercelli, Bordeaux and Warsaw. Ewa Pobłocka has performed throughout most of Europe, as well as both North and South America, Singapore, Korea, Japan, and Australia, appearing in such famous venues as the Herkules-Saal in Munich, the Musikhalle in Hamburg, the Auditorio Nacional in Madrid, the Barbican Centre and Wigmore Hall in London, the Musikverein in Vienna, New York's Lincoln Center and Glenn Gould Studio in Toronto.
She has given concert performances with, among others, London Symphony Orchestra, English Chamber Orchestra, Orchestra del Maggio Musicale Fiorentino, Bayerisher Rudfunkorchester, Niederösterreichisches Tonkünstlerorchester, Polish National Philharmonic Orchestra in Warsaw, Polish Chamber Orchestra and the Polish Radio National Symphony Orchestra in Katowice.
She has been broadcasted widely and recorded for Deutsche Grammophon, Grüner§Jahr, VICTOR JVC, Pony Canyon, Polskie Nagrania MUZA, KOS Records, Conifer Records, CD ACCORD and BeArTon. Her recorded interpretation of Lutosławski\'s Piano Concerto under the direction of the composer was named "Record of the Year \'96" by the monthly magazine "Studio", and for her recording of Field\'s complete Nocturnes she was awarded the John Field Medal. Her CD with the Piano Concertos by Andrzej Panufnik, Witold Lutosławski and Paweł Szymański with the Polish National Philharmonic Orchestra under Kazimierz Kord (edited by CD Accord) received the title of "The Record of the Year \'98" and the award of the Polish Board of Phonography FRYDERYK \'98. Also her recording of the Songs by Mieczysław Karłowicz with Jadwiga Rappé (edited by CD Accord) was awarded by FRYDERYK \'98. Her most recent recordings are the Chopin\'s complete Mazurkas, Fantasia on the Polish Airs Op. 2 with Sinfonia Varsovia under Jacek Kaspszyk (world premiere recording based on the Polish National Edition edited by Jan Ekier) for BeArTon, Bach\'s complete Partitas and Faure\'s complete Nocturnes for VICTOR JVC.
Ewa Pobłocka also enjoys performing chamber music in which field she works with the singers as Ewa Podleś, Jadwiga Rappé and Olga Pasichnyk, as well as with violinist Piotr Pławner and the Silesian String Quartet.