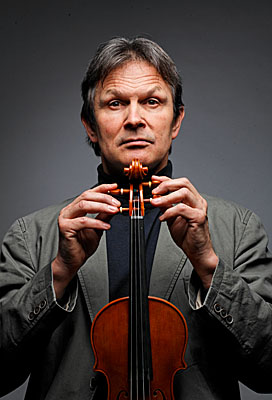 Vienna with its creative tensions between tradition and innovation provided the musical background in which Ernst Kovacic – violinist and conductor – grew up and developed his visions of form, sound and interpretation. With his interpretations of Bach solo sonatas, the violin concertos of Mozart and his engagement for the New Music, Ernst Kovacic soon established an outstanding role himself amongst the leading violinists of his generation. Many composers such as Křenek, Cerha, Gruber, Schwertsik, Holloway, Osborne, Eröd, Haas, Furrer, Bates, etc., have written works for Ernst Kovacic. In the recent seasons he has played, among others, the world premieres of violin concertos by Beat Furrer, Django Bates and Friedrich Cerha with the Vienna Philharmonic Orchestra, the London Sinfonietta and the RSO Vienna. In the season 2008/2009 he has premiered Clemens Gadenstätter's new Violin Concerto with Klangforum Wien at the Wien Modern Festival. As soloist of prominent orchestras in Europe, Asia, Africa, America and Australia Ernst Kovacic has played under such conductors as Franz Welser-Möst, Sir Roger Norrington, Sir Simon Rattle, Esa-Pekka Salonen, Michael Gielen, HK Gruber. He has taken part in festivals in Salzburg, Vienna, Graz (Styriarte), Grafenegg, Bregenz, Berlin, Ravenna, Edinburgh, Schleswig-Holstein, Oslo (Ultima), Sankt Gallen (Arcana), Malmö (Music and Art Around), London (BBC Proms).
As directing soloist and conductor, Ernst Kovacic co-operates with many chamber orchestras: from 1996 to 1998 he was Artistic Director of the Vienna Chamber Orchestra. Among others, he played with the Scottish, Irish and English Chamber Orchestras, the Northern Sinfonia, the Britten Sinfonia, Stuttgart Chamber Orchestra, St Paul's Chamber Orchestra, the Norwegian Chamber Orchestra, the Klangforum Wien, the Ensemble Modern, Camerata Salzburg, Camerata Bern and Deutsche Kammerphilharmonie Bremen. Since 2008 he is a member of the Zebra Trio with Steven Dann and Anssi Karttunen.
In 2007 he took over the artistic direction of the NFM Wrocław Chamber Orchestra Leopoldinum in Poland. With this orchestra he appeared at the Flanders Festival, Brücken-Festival (Austria), Warsaw Autumn (2008), 13th Ludwig van Beethoven Easter Festival. In the running season they will take part in the Musica Electronica Nova and Leo Festival in Wrocław. Furthermore, they have recently completed a recording of all string orchestra works by Ernst Křenek for Capriccio label and Beethoven and Schönberg works for the label CD Accord.
Ernst Kovacic plays a violin by Giovanni Battista Guadagnini from 1753.